An Exclusive Online Sportsbook Review of GTBets.eu
August 2, 2014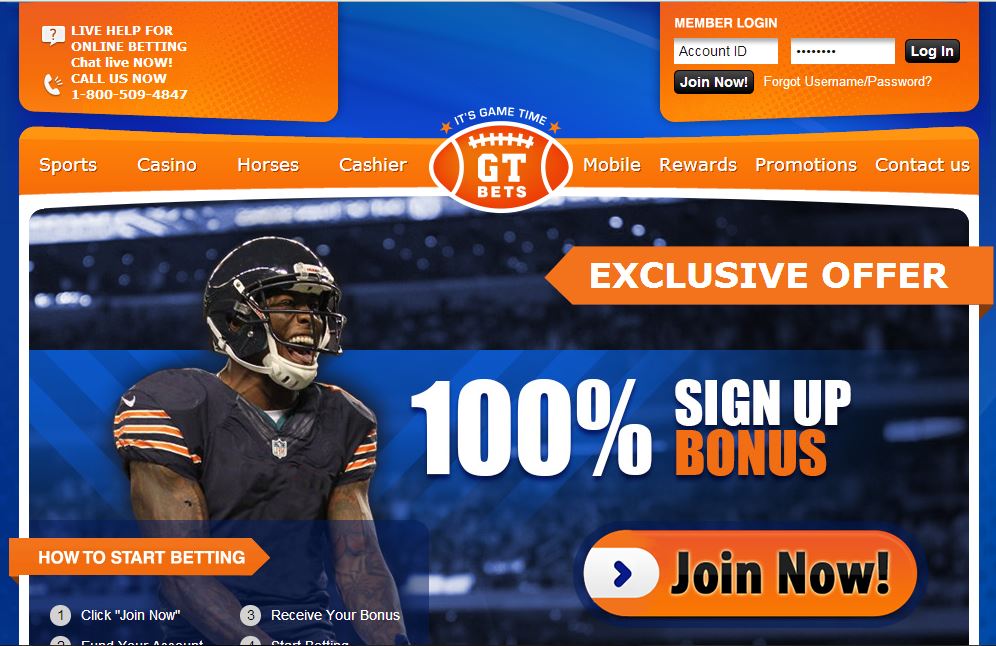 As you probably know, we have included GTBets.eu in our list of recommended online sportsbooks. But before you jump into signing up for this site, take a look at our exclusive review. We've checked the site out, placed some wagers and have all the information about bonuses, wagers offered and much more. We want you to know exactly what you're getting yourself into before trying out any online sportsbook. But we think you're going to like what you see.
Let's talk bonuses
Everyone loves a bonus. You deserve a bonus. We would NEVER recommend an online sportsbook that doesn't provide players with some nice bonus promotions. Here's what you get when signing up for GTBets.eu. You have the option of either getting a 100% match bonus on your initial deposit up to $250 or a 50% match bonus on your initial deposit up to $500 (HINT: choose the 100% bonus). They also offer reload bonuses that are based on how much you have wagered in the past.
Types of bets you can place
GTBets attempts to accommodate to all sports bettors. And they do a great job with it. You can place virtually any type of wager on GTBets, including:
Straight bets – Moneylines – Parlays – Over/Under – Teasers – Round Robins – Point Buys/Sells
Half Time bets – Quarters – 1st 5 Innings – Run in the 1st – Futures – Props – If Bets
Daily Live Action on Football, Baseball, Basketball, Soccer, etc
Dime lines, Reduced Juice Happy Hours, and Favorite Team Point Discounts
Mobile Wagering – They also offer a badass mobile wagering site, where you can access the site from your smartphone and you will automatically be redirected to the optimized mobile version.
Basically, if you have a type of wager you want to place, GTBets will allow you to place the bet. That's one of the biggest factors we took into consideration when grading GTBets. After we determined GTBets offers solid bonus programs and allows for virtually every type of wager, we knew we found a quality online sportsbook.
More about GTBets.eu
There is more to GTBets.eu than what we have already mentioned. This truly is a complete online sportsbook and gambling site. If you want more than just an online sportsbook and enjoy other forms of gambling, this is the site for you. GTBets has a high-quality online casino. They have an extensive list of casino games including all of these popular ones:
Baccarat
Multi-hand blackjack
Single deck blackjack
Pai Gow
Caribbean stud poker
Roulette
Craps
5 reel slots
3 reel slots
Video poker
Horse racing
And MANY more
Why travel to Las Vegas or a local casino when you can play all your favorite games right on a site such as GTBets? One of our favorite features of GTBets is the ability to play casino games – and place sports wagers – directly on a smartphone (iPhone, Android, etc.). You can play your favorite games 24/7 no matter where you are.
GTBets.eu conclusion
We have already given you many reasons to try out GTBets.eu. It truly is one of the best online sportsbooks. However, there are some other sites worth trying, which you can find right here on our website. We've ranked all the online sportsbooks, now it's up to you to decide the site(s) you want to try.