Sportsbook Report NFL Week 6 RoundUp
October 14, 2014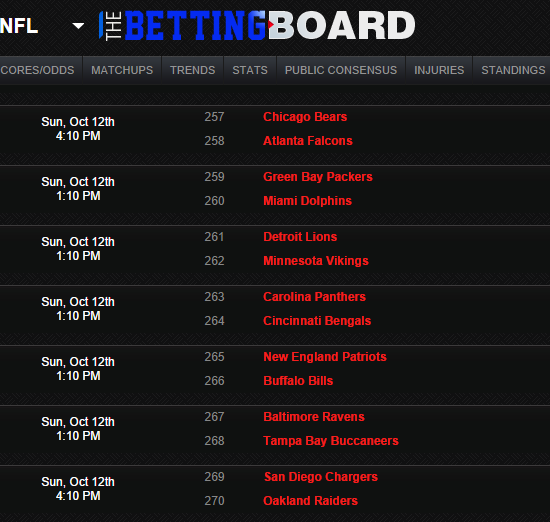 Many sportsbooks took a bit of a pounding in the NFL this past weekend.  The number one beat down came at the hands of the Denver Broncos covering the ten point spread at the Jets. At game start 80% of the bettors were on the Broncos and it was the most single bet game of the week. The Jets kept it close until the end when Denver pulled away costing sportsbooks millions.
New England covering their 3 point spread at Buffalo also hit the sportsbooks for a pretty penny.  That game was never really that close and bettors whistled all the way through.  2-0 for the general public.
It wasn't until the late afternoon games that the sportsbooks got some relief. The people loved San Diego -7 to the tune of 75% to 25%.  Oakland led most of that game and the Chargers were able to pull off the win, but not the cover. San Diego won by three points. Oakland fans were devastated and so were the bettors that went all in on this game.
But the last lopsided betting game belonged to the public. They had San Fran and the Over for MNF and it looked as if neither was going to happen. Then Frisco took control of the game and a last play interception for a TD secured both bets and the public walked away 4-1 on heavily bet lopsided action games for the weekend. 2 out of 3 had SF and the over bettors made up 75% of that action. The sportsbooks are licking their wounds and hoping for a better week 7.
The SBA scores and odds tool (provided by SportBettingOnline.ag) has all the public consensus numbers. Check it out here LIVE LINES AND ODDS