NFL Week 7 Betting Round Up
October 21, 2014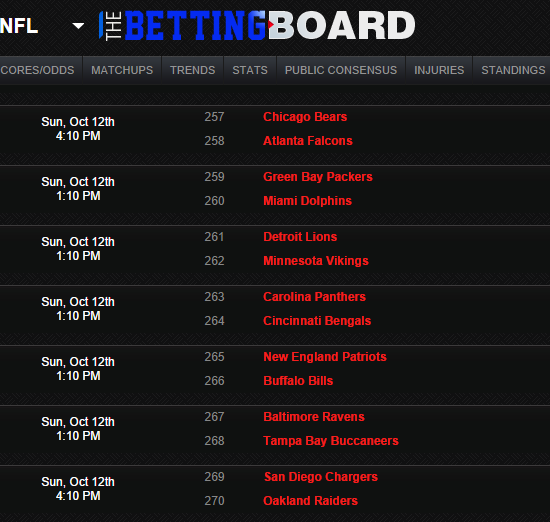 The Round Up is where we let you know how he sportsbooks fared this past weekend. Did the betting public win? Did the sportsbooks win? Or was there a stalemate?
According to data supplied by our friends at SportsBettingOnline.ag (SBA Rating A+) there was no heavier lopsidedly bet game than that of the Indianapolis Colts vs. The Cincinnati Bengals. Apparently everyone and their mother, and their mothers mother, knew that The Colts would win and cover.  The line featured Indianapolis -3 all week long and oddsmakers were hesitant to come off that number. They wish they would have however as it was not even close.  The Colts routed the Bengals 27-0.  Diamond Sportsbook (BetDSI – SBA Rating C-) was the only book to come off the the three and went to -3.5. Even Bovada (SBA Rating B+), who typically is higher than other sportsbooks on favorites, kept it at -3 but adjusted the moneyline to -140. 80% of the betting public had Indy and sportsbooks got smashed on this game.
The Miami Dolphins were at Chicago and the public was feeling like Chicago was a good pick here. The total amount of money wagered on the game was only about 2/3 of what was bet on the Colts vs. Bengals game, but the sportsbooks did well with this one. 75% of folks had the Bears and Miami never trailed in this game. Easy win for the books.
Public money was also heavily lopsided on the Bills (Bills vs. Vikings) and the Ravens (Ravens vs. Falcons) to the tune of 70%/30% in their respective games.  Buffalo was -6.5 and did NOT cover, only winning by one point. The Ravens were also -6.5 but did cover. The public and books split these two.
Finally, Green Bay was -7 point favorites vs. Carolina. The public bet Green Bay to the tune of 70%.  The Packers dominated this game from beginning to end. Easy win for Joe Public.
The Final report sees the public winning the overall record here this weekend on lopsided games as well as the money total. The public was 3-2 on lopsided bets vs. the sportsbook.