Ohio State Buckeyes at Michigan State Spartans College Football Betting Preview
December 4, 2020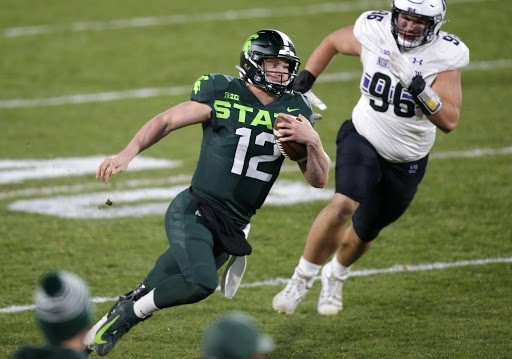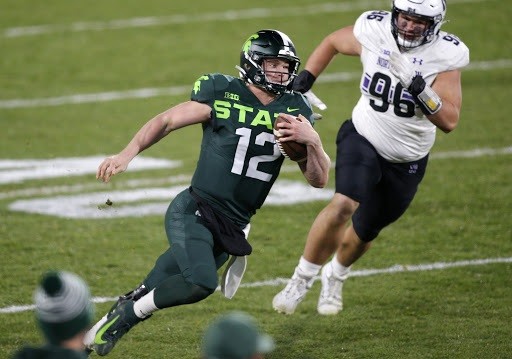 The Ohio State Buckeyes (4-0) hope to get back on the field this weekend when they travel to face the Michigan State Spartans (2-3). Last week's Buckeyes game at Illinois was cancelled after Ohio State had a COVID-19 outbreak while the Spartans upset then No. 8 Northwestern. The Saturday, December 5 game kicks off at Noon ET on ABC from Spartan Stadium in East Lansing, MI.
These teams have played every year since 2011 with the Buckeyes winning six of nine. Overall Ohio State leads the series 33-15 and they are 17-5 in East Lansing. Last year the Buckeyes won 34-10 at home and they haven't lost at MSU since 1999.
Ohio State Betting Outlook: Get Healthy
In betting with us at www.RealBookies.com the Buckeyes are 2-2 ATS this season and the over is 2-1-1 in their four games. The game against Illinois was the second game cancelled for Ohio State this season and missing another game could eliminate them from the Big Ten Championship Game.
The Buckeyes offense ranks seventh in the nation in total yards (535.3 ypg) and eighth in scoring (45.3 ppg) while the defense is 11th best against the run (98.5 ypg). Last year quarterback Justin Field threw for 206 yards and two scores while running for another TD against Michigan State last year. Ohio State racked up 331 yards on the ground and held the Spartans to 69 rushing yards.
Fields had a rare three interception game against Indiana in Ohio State's last game. He fell behind Florida QB Kyle Trask in the Heisman race but is still in the top three in nearly every predictor poll. On the season he has 1,208 yards in four games with 13 touchdowns, three interceptions and an 80% completion rate.
The Buckeyes tend to go with the hot runner at running back. On the season Master Teague III has 380 yards and six touchdowns and he gashed Indiana for 169 yards.
Trey Sermon has 232 yards on the season while Fields has 135 rushing yards and three touchdowns.
Fields spread the ball around and wide receiver Garrett Wilson leads the team with 31 catches for 513 yards. Chris Olave has 26 catches for 389 yards and both went over the 100-yard mark against Indiana. Olave and Wilson have four receiving touchdowns each while tight end Jeremy Ruckert has three.
Michigan State Spartans Betting Outlook: Stop the Run
Betting with us at www.RealBookies.com the Spartans are 2-3 ATS and the over is 3-2 in their five games. They are 1-2 ATS at home and the over is 2-1 in the three games at Spartan Stadium.
After being shutout in Indiana the Spartans stunned Northwestern 29-20 on Saturday after building a 17-0 lead. Quarterback Rocky Lombardi had two touchdown passes including a 75-yarder to start the game. Running back Connor Heyward ran for 96 yards and the Spartans held Northwestern to just 63 yards rushing for the game.
Lombardi only completed 11 passes for 167 yards on Saturday but he also ran 10 times for 65 yards. He has completed 54% of his passes on the season for 1,057 yards with eight touchdowns and eight interceptions.
The Spartans ran 47 times for 195 yards against Northwestern but still have just one rushing touchdown on the season. Heyward has 179 yards on the season but both of his touchdowns are receiving. Injured Jordon Simmons has 147 yards on 42 carries with five receptions for the season.
Wide receiver Jalen Nailor had three catches for 99 yards and a touchdown Saturday while Jayden Reed had two catches for 36 yards and a score. Nailor leads the Spartans with 379 yards and 16 catches on the season. Reed leads the team with 22 catches and three scores while going for 252 yards.
Ohio State Buckeyes at Michigan State Spartans Betting Line
Head to our favorite pay per head bookie site at www.RealBookies.com where the Buckeyes are favored by 23.5 points with a total of 59.5 points.
Betting Analysis
The Spartans are an enigma as they pulled upsets of Michigan and Northwestern while losing at home to Rutgers and scoring just seven total points in losses to Iowa and Indiana. Ohio State has had no such problem scoring with at least 38 points in all four games. The only question with the Buckeyes is who is available after last week's COVID outbreak and if they are healthy enough to take the field.
[spbcta_sc id=4]