Can the Boston Celtics Turn Things Around in Time
April 21, 2017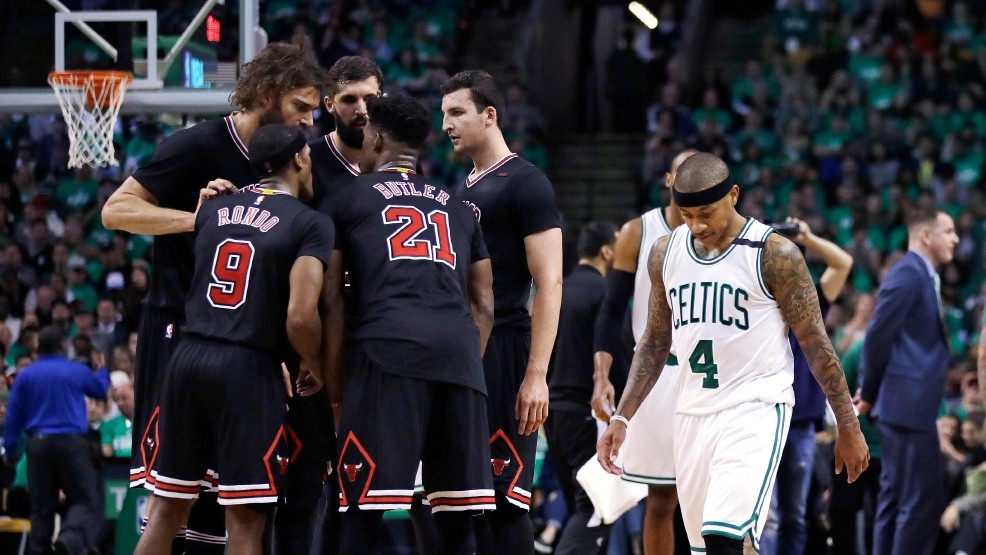 During the just ended NBA regular season, the Boston Celtics won the Atlantic division with 53 wins. However, that seems like it was months ago as they have started their postseason poorly.
Boston opened as the No. 1 seed in the Eastern Conference but then proceeded to loss Games 1 and 2 on its home court. On Friday, the Celtics play the Bulls at the United Center in Chicago.
That is not good news for Celtics fans. Boston has not won in Chicago since November of 2014 which is a span of 4 straight games.
A loss by Boston in game three would put their backs against the proverbial wall and the Celtics would need four straight victories to win the series.
Boston became the 24th team in the NBA to lose the first two games of their best of seven series at home. Of the prior 23 teams, just three were able to advance to the following round.
The last team to pull that off was in 2005 when the Dallas Mavericks rallied from a 2-0 series deficit to beat the Houston Rockets at home in Game 7 and move on to the second round.
Often times the NBA receives criticism for not having enough parity and over a period of time that has become real evident during the first round of the playoffs.
This is just the second series in NBA history where the No. 1 seed lost Games 1 and 2 to a No. 8 seed. Phoenix lost its two opening games to the Lakers in 1993 but won three straight to knock the Lakers out in a best of five series.
It is widely known that rebounding is a big issue with the Celtics and that has hurt them during the first two games of their current series. Add to that a poor defensive showing and it is not surprising Boston trails 2-0 in the series.
Boston has given up 100 or more points in 13 of its past 15 games overall and 110 or more points in 5 of them. Injuries cannot be a factor since all the players considered good defenders have been playing.
It just seems Boston is going through a tough stretch right now, which could not have happened at a worse time.
Add to that the fact high scorer Isaiah Thomas lost his sister in an auto accident and is grieving and it is not as surprising as it may seem that Boston trails in this series 2-0.