NFL Draft Odds Favor Mitch Trubisky over Deshaun Watson
February 23, 2017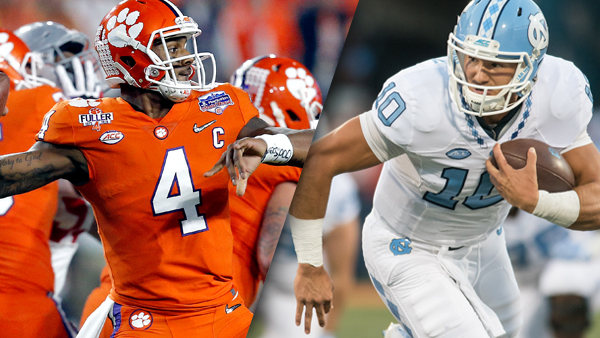 The next event NFL bettors have an opportunity to take home more winnings is the NFL Draft at the end of April.
A number of online sportsbooks are offering odds for the draft. The class of 2017 is not considered deep in quarterbacks, as there is not a lock to be a franchise player like when Andrew Luck was drafted out of Stanford.
Therefore this year is not a good year to need a quarterback and have a pick in the Top 3. The No. 1 pick is held by the Cleveland Browns, while No. 2 is in the hand of the San Francisco 49ers and No. 3 the Chicago Bears.
All three badly need a quarterback so likely at least one of the three will take a signal caller with their first pick.
However, no quarterback in the draft is ranked that high, in fact there is not a quarterback ranked amongst the Top-15 players in the draft by most football scouts. The top three teams are also considering making a trade to land New England Patriots backup quarterback Jimmy Garoppolo.
The first quarterback predicted to be chosen in the draft is Mitch Trubisky from North Carolina who is at +110 on most sportsbooks. He only was the starter one season with the Tar Heels so his true talent is still not completely known.
Deshaun Watson from Clemson is the second favorite at +150 to be chosen as the first quarterback. He led the Tigers this past season to the national championship and torched the No. 1 defense of Alabama in doing so.
Watson is not considered the favorite due to tearing an ACL during his freshman season but more than that, his accuracy has been a problem at times. He threw 17 interceptions last season.
DeShone Kizer from Notre Dame is currently at +400. He is the draft's most athletic quarterback but this past season was benched at one time and some have questioned his motivation level.
Pat Mahomes from Texas Tech may be a sleeper. At +2000 he is a long shot to be chosen first. Mahomes has the best numbers statistically by far, but the offense at Texas Tech was pass first.
Do not expect Cleveland to take a quarterback at the No. 1 spot overall as the favorite at that spot at -215 is a defensive player. Myles Garrett a defensive end from Texas A&M is projected to chosen by the Browns and then they will look for a quarterback at No. 12, their next choice.