Odds Makers and Bettors Give U.S. Little Chance Versus Argentina
June 21, 2016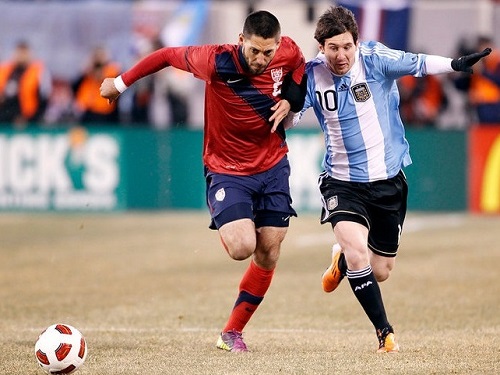 The Copa America semifinals begin in Houston on Tuesday when the U.S. plays Argentina one of the best teams in the world. The U.S. national team is trying to reach the summit in world football, but if bettors' opinions and the betting line are indications, the U.S. needs much improvement before it will ever get near the top.
The U.S. opened as +650 dogs on many three-way moneylines, while on the "to advance" line for some sportsbooks the U.S. opened at +400.
Nevertheless, the numbers were not large enough to attract much long shot interest on the hosts, as most of the early action has been on the heavy favorite Argentina.
Bettors almost always support a powerhouse, the top clubs in the world, regardless of who they face, said one bookmaker.
Only 24 hours prior to the match, Argentina has moved from -500 to a current -550 on the "to advance" line, while the albiceleste moved from a -215 to a -250 on most three-way lines.
At the same time, odds for the U.S. jumped on the "to advance" line to +425 and the three-way line to +850.
The two-way line went from an opening Argentina -1 goal at -125 to a current -150 with the U.S. at +130 with its cushion of 1 goal.
If just playing against one of the world's best teams was not enough, the U.S. will be without three of its starters. Bobby Wood, Alejandro Bedoya and Jermaine Jones are all suspended for the match.
Most sportsbooks do not feel the three players' absences will have much of an impact on the betting line, but the loss of Jones could be the toughest for the U.S. to overcome, due to his toughness in midfield.
Jones and captain Michael Bradley play center midfield, which is key to a team's ability to hold possession of the ball. Possession is key for the U.S. against Argentina.
With enough possession during the match, the U.S. might find the slightest of holes to attack Argentina, but without Jones much will fall on Bradley and it could end being a tough task.
The U.S. will have to absorb pressure all night from Argentine star Lionel Messi and his skilled teammates and then try to score during a counter attack.
Argentina however looks to be too much on this night for the U.S. The U.S. dream ends for now on Tuesday.