Prescott, Elliott and Cowboys Getting Big Looks from Odds Makers
October 26, 2016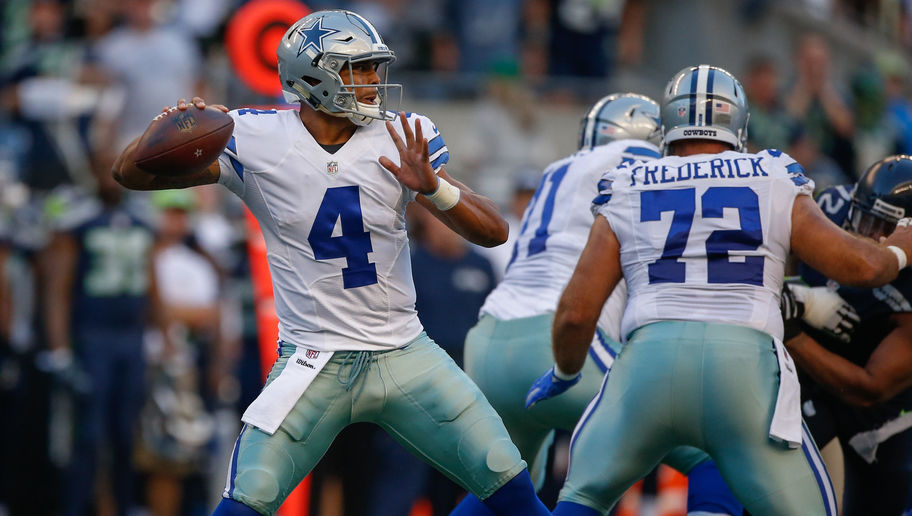 The Dallas Cowboys behind the play of rookie quarterback Dak Prescott and his rookie running back Ezekiel Elliott are starting to get looks by odds makers.
Dallas has not won a Super Bowl since Super Bowl XXX, which was 21 years ago. If they want to win this season, history has shown that they should replace Prescott with Tony Romo the 36-year old veteran following the bye of Week 7.
That of course is if Romo has recovered from the back injury that has sidelined him since preseason, after all, there is no NFL team that has won the Super Bowl with a rookie at quarterback.
However, it is clear that owner Jerry Jones cannot pull Prescott at this time as the rookie from Mississippi State is playing so well. Loyalty is one thing, but Jones knows winning trumps that any day.
The Cowboys sit in first place in the NFC East at 5-1 and have 6 to 1 odds to win the NFC Championship.
Things like this have happened before. Drew Bledsoe was injured during 2001 as the starting quarterback for New England. He was replaced by none other than Tom Brady and you know the rest of the story.
Romo could have played his last game for Dallas. If he does not play again this season, he will likely be released by Dallas due to his huge salary cap amount of $24.7 million.
Prescott is currently at 20 to 1 to win the MVP award in the NFL, while Elliott's odds are even shorter at 10 to 1.
Prescott has a 103.9 rating at quarterback, which is one of the highest in the NFL. He has just 1 interception after six games.
Elliott leads the NFL in rushing averaging 117 yards a game. He has run for 130 yards or more in his past four straight games. He has 703 yards rushing which is the second most ever by a player in the first six games of his career, trailing only Eric Dickerson who had 787.
The Cowboys are 4.5-point chalk this week against Philadelphia and will likely be favored through Week 12, which is their annual Thanksgiving Day appearance.
Dallas could possibly be 10-1 when they would play Minnesota in Week 13.
Dallas is currently sitting at 14 to 1 to win the Super Bowl, which are the fifth shortest odds on most top sportsbooks.