Virginia Upset Pays Off Huge for the Few
March 17, 2018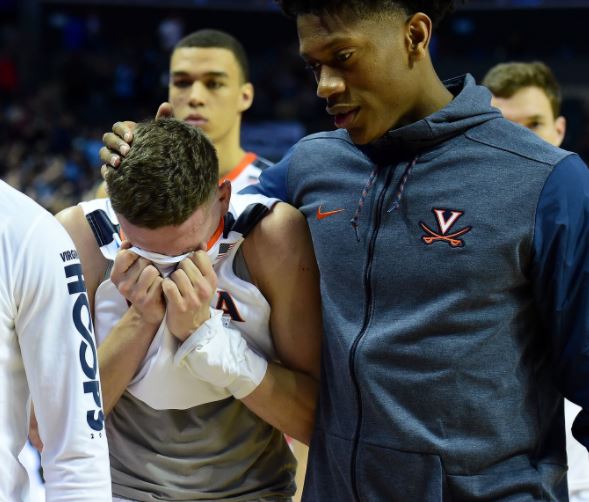 Most everyone had Virginia moving to the second round of their bracket yesterday and many even had them winning the whole thing. Bracket busted! The UVA basketball team was 31-2, ranked #1 overall in the country and was playing a 16 seed that was 24-10 overall and whom most people probably had never heard of, UMBC aka University of Maryland Baltimore County. We even posted UVA -21 as a free pick yesterday seeing how they had one of the largest margins of victories in the country.
It was not to be. UMBC pretty much dominated the second half and ended up winning by 20 points. Going into halftime the teams were tied at 21 points and people at the sportsbook were literally scratching their heads looking at the screen. UMBC went on to score 53 points in the second half as Virginia's vaunted defense basically fell apart.
We knew a guy that put $100 on UMBC straight up to win $2500. We all thought he was a little nutty but we are also fans of big payouts. He made some great points. The best bench player was out for the rest of the year for Virginia with a hand injured he suffered in the ACC championship game. Virginia scores low points and wins because of their great defense. So, if UMBC could score points early and often they could win. His other point was that UMBC was the wild card. Nobody had really seen much of their work. There wasn't a lot of time to study this team individually.
Virginia is the first #1 overall team to lose in the first round since the Division I men's tournament expanded to 64 teams in 1985. But Virginia has had history similar to this loss. In 2014 they were the top seed and made it to the Sweet 16 and lost to Michigan State. The next year they were #2 seed and lost in the second round. In 2016 they were again the #1 seed and made it to the round of eight and lost to Syracuse. But no loss has been as devastating as the one yesterday.
If you were wild, crazy, or foolish enough to bet UMBC to win the entire thing, you are currently enjoying a feeling of hope and excitement. They were +100,000 odds to win it all meaning if you put a $100 on them and they win you get a payout of $100,000. Good luck. Everyone in the betting community is rooting for you and we would love to publish your ticket and story after it is all said and done.
UMBC next plays Kansas State at 7:45pm EST tomorrow night (Sunday, March 18). They are ten point underdogs in that game. You can bet the game at a trusted sportsbook.