Heisman Trophy Futures Top Heavy with Quarterbacks
September 14, 2016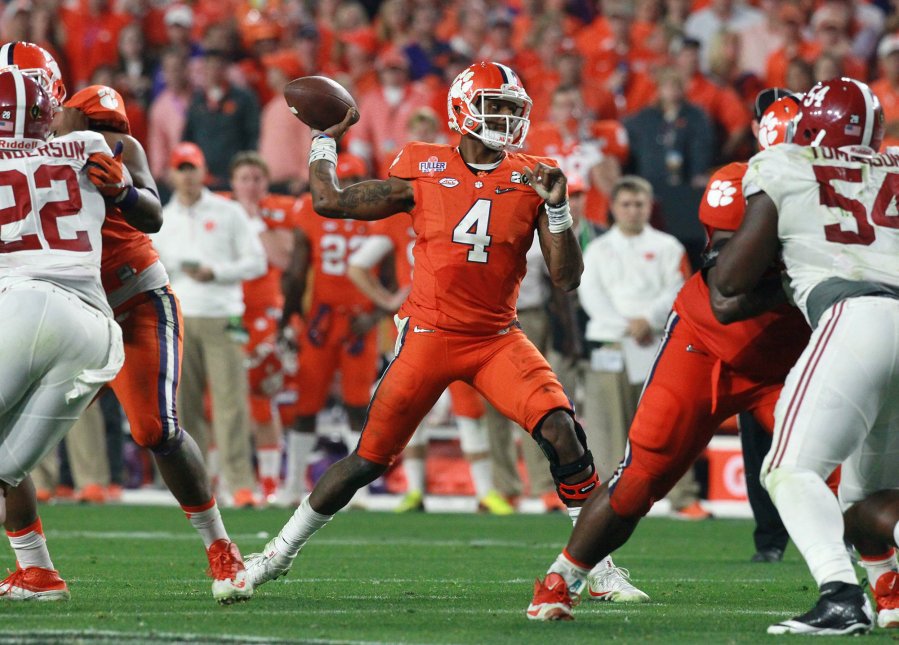 A quarterback has won 13 of the last 16 Heisman Trophy awards. Therefore, it should not surprise anyone following college football that the updated futures for the Heisman Trophy are top heavy with talented signal callers.
Deshaun Watson the star quarterback for Clemson has the best odds for all quarterbacks following two weeks of action. The junior signal caller is currently 5 to 1 to win.
Some consider those odds quite short for Watson since he has only completed 53% of his passes and has a rushing average of just 3.6 per run.
During the first two games of the season, Watson has competed against opponents that he should have lit up the stat and score boards, so bettors should be cautions when it comes to Watson.
The next quarterback on the list is Florida State's Deondre Francois. He was not even listed on the futures board for the Heisman until after Week 2. He is currently at 6 to 1. Francois, a redshirt freshman, has a 69% completion percentage and quarterback rating of 154.4.
J.T. Barrett the dual-threat quarterback for Ohio State is also at 6 to 1. Barrett has been the Buckeyes focal point on offense. He is responsible for 9 touchdowns thus far after two weeks.
Lamar Jackson the star quarterback for Louisville is also at 6 to 1. The Cardinals signal caller passed and ran over opponents at an incredible rate the first two weeks of the season. He has accumulated more than 1,000 yards of offense and 13 TDs. If he were an offense, he would be the No. 30 ranked scoring offense in the nation.
With all the quarterbacks hogging the top of the futures board, the favorite seems to have gone unnoticed. Topping the futures board for the Heisman is Stanford's Christian McCaffrey. The Cardinal running back is 4 to 1 to win the annual award. He has only played one game thus far, but had 210 all-purpose yards versus Kansas State.
Top 5 Favorites for 2016 Heisman Trophy
Christian McCaffrey 4 to 1
Deshaun Watson 5 to 1
Deondre Francois 6 to 1
J.T. Barrett 6 to 1
Lamar Jackson 6 to 1