About SportsBook Advisor
About Sportsbook Advisor
This company was created to constantly monitor and grade sportsbooks on a grade scale of A+ through F, based on the North American Academic Grading Scale. This site is a type of watchdog site where people can give feedback on their personal experience with online offshore sportsbooks. We use various sources throughout the business to gather and maintain our database of information.
More About Ownership/Management
Only the Best are Rated in the "A" Category. And we award the SportsbookAdvisor.com Golden Seal to the best. They can then place this seal on their site or newsletters so visitors can see they have been verified by an independent unbiased source.
We have been in the online gaming industry since 2002 and this site has been online since 2007. Our staff has a combined 50 years of professional gaming experience.
Only Books that Rate in the "A" Class get an official Seal.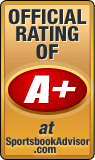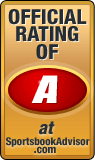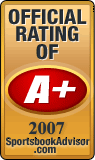 Custom Badges are also made like the one featured on the bottom of prominent Sportsbooks.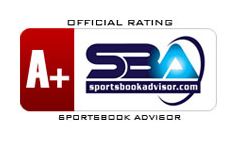 About Sportsbooks (In General)
A sportsbook (sometimes abbreviated as book) or a race and sports book is a place where a gambler can wager on various sports competitions, including golf, football, basketball, baseball, hockey, soccer, horse racing, boxing and mixed martial arts. The method of betting varies with the sport and the type of game. The more prominent the event, the more wagering options that are made available.
Winning bets are paid when the event finishes, or if not finished, when played long enough to become official; otherwise all bets are returned. This policy can cause some confusion since there can be a difference between what the sportsbook considers official and what the sports league consider official. Customers should carefully read the sportsbook rules before placing their bets.
The betting volume at sportsbooks varies throughout the year. Bettors have more interest in certain types of sports and increase the money wagered when those sports are in season. Likewise the interest in sports varies by country since the level of interest in the various sports is not constant throughout the world. Some major sporting events that don't follow a specific schedule, like boxing, can create peaks of activity for the sportsbooks.
Word origin
"A sportsbook is a portmanteau word, combining two meanings into one word for a sports gambling operation, in this case SPORTS and BOOK which is short for bookmaking.
Odds
In the mid 1930s, Leo Hirschfield started a company in Minneapolis, Minnesota called Athletic Publications, Inc., that published and distributed odds to bookies across the country by telephone and telegraph. He had a team of handicappers analyzing the matchups who also studied newspapers across the country. The company was a major provider of odds and prices until it finally disbanded, under fear of prosecution from the Federal Wire Act of 1961.
Today most sportsbooks get their opening prices from other sportsbooks as well as private companies like Las Vegas Sports Consultants. They adjust prices based on the bets coming in, news, injury, and weather information, and the price movement by other sportsbooks."
source – Wikipedia
Special Notes & Terms of Service
Important Notice: If you do not see a sportsbook in which you are inquiring, this means we have not had any personal experience with them and/or any positive/negative feedback about them. Be safe and bet with one of our Recommended Sportsbooks.
Terms of Service of this Sportsbook Advisory website: Only persons who agree to these conditions may access and make use of this site: This site is available for information purposes. We do not expect anyone to violate their local or federal laws by using information or links contained within this site.