The First Real Bet Opportunity
August 18, 2013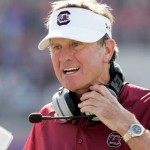 Right around the corner is what we have all been waiting for: A Football game played at a high level that is considered a "real game" and not some preseason exhibition nonsense. We want games where players fight and scratch for every yard and every yard makes it into the game log as historical record. Well my friends that such game is right around the corner. In just 11 days from me writing this you will have the ability to tune in an watch a college football game complete with point spread and over/under.
Thursday August 29, 2013
North Carolina vs. South Carolina (-12) (6pm ESPN)
UNLV vs. Minnesota (-14.5) (7pm Big Ten)
I am just excited to throw down action on a real sport and a real game. But don't let that exuberance fool you. I have an opinion on these plays. South Carolina is building quite the squad there under "The Old Ball Coach".  UNC has had a lot of off-field issues as well. I look for this as a chance for Spurrier to kind of flex some depth muscle and win easily. Probably by 21 or more points. Take South Carolina
UNLV is in full rebuild mode. Minnesota has come leaps and bounds since a few years ago. But are they good enough to command a 14.5 point spread?  Maybe. But I say Maybe not. Take UNLV.
You can take these picks and check out our top rated Sportsbooks for service. They are simply the best.