Topbet.eu Sportsbook Review
September 4, 2013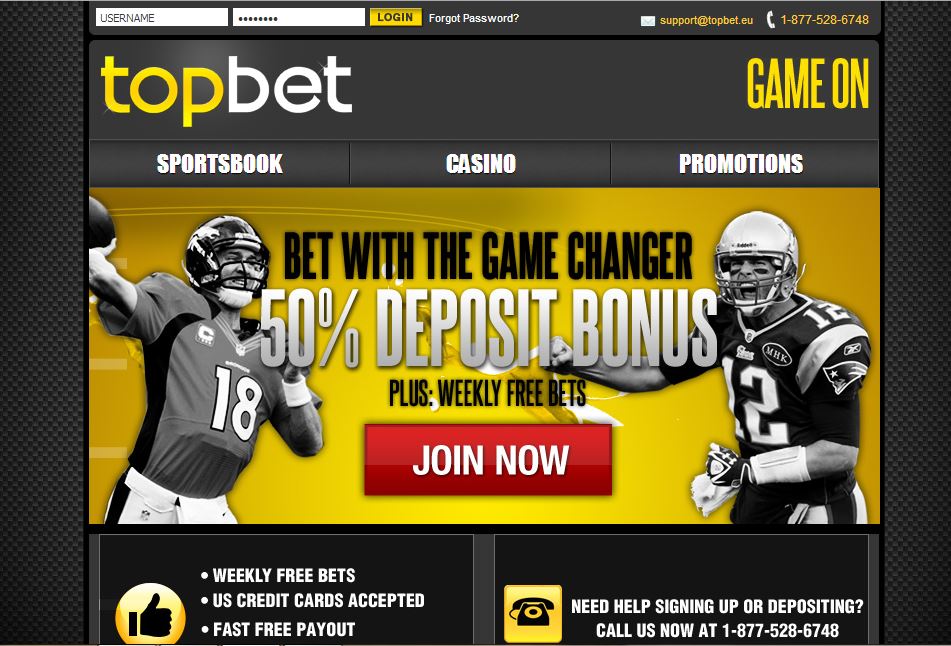 Topbet.eu is a sports betting site that largely focuses on the top sports of the season. Many of the promotions for new and reoccurring players are centered on one sport that is quite popular as a means of encouraging people to participate on the website. This can be a great incentive for those that would like to save on their investment without much effort. Some specials can run up to 50 percent of the deposit bonus and often include free weekly bets in addition to this savings which can add up quickly for players that plan to use the website fairly often during a season.
Unlike some sports betting sites abroad, topbet.eu allows users to sign up with U.S. credit cards, which can make it much easier to get an account up and running. Anyone who opts to reload a profile will earn a 10 percent bonus, which offers incentive for people to keep using the site when their favorite sports season rolls around. These savings can also be translated to the casino games, where real money betting on classic casino favorites like blackjack or poker consistently brings in hundreds of players from many different countries.
Amongst users, the rating of topbet.eu has been consistently rising in recent years. The wagering support is being praised for upping their efforts as a means of pleasing customers and drawing in new people that would like to make use of the website. The customer service department also offers quick forms where people can make claims about any concerns that they might have about using the site so their queries can be answered quickly. The website currently does not have any outstanding complaints in its name, which is a high mark of praise and indicates that the website is making payments fairly and with customer satisfaction. This is always a bonus when people want to pay real money in live time to participate in gambling features online.
The topbet.eu team has been managing sports betting franchises for over 20 years, which provides users with a high level of comfort. The website is dedicated to offering a wide variety of betting options so people that have not been satisfied with their experience at other, similar sports betting sites often find what they are looking for here. The website is designed to take bets quickly as well as manage multiple bets at once, so users that plan on covering many different sports teams or would like more information about how longstanding bets are performing can rely on this management style to get everything they need.
The website also offers a comprehensive and generous comp points system that often pays out bonus points to players. The more they bet, the more they will be provided with comps and incentives which can help cut the costs of using topbet.eu. This program was specifically modeled after the comp programs that are available in most top casinos, with a variety of prizes and rewards available for users to pick and choose from. This has worked to build a great deal of customer loyalty to the program.