Bovada.lv Sportsbook Review
September 15, 2013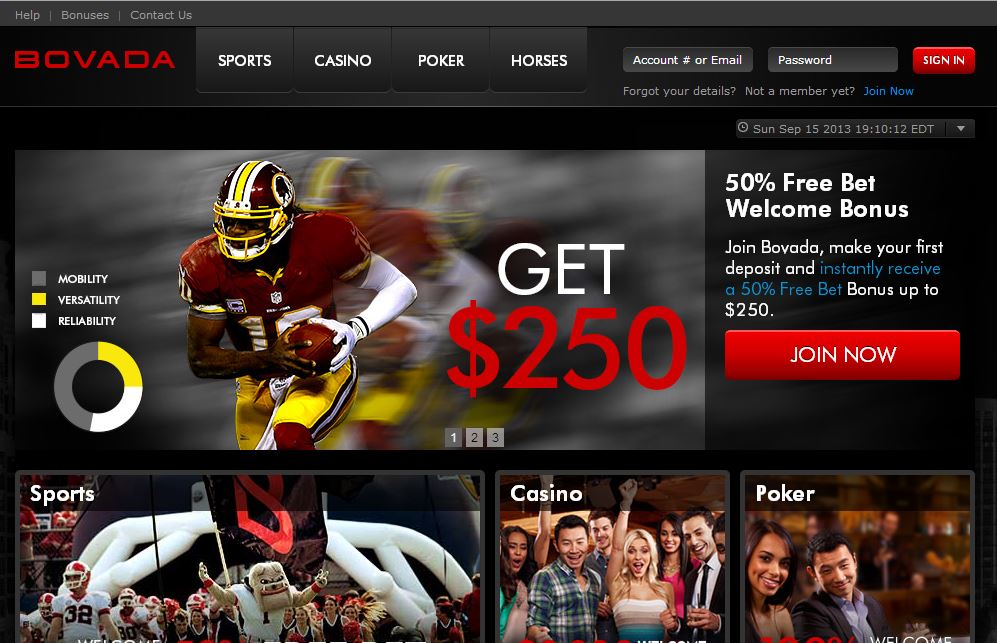 Bovada.lv is one of the highest rated sports betting and online casino venues online today. They consistently receive a rating in affordability, quality of the software and customer care which keeps people coming back. The software is set up to match Bodog betting so those that have been using this platform will find it easy to make the transition to the new platform. The archives of the Bovada site outline this transition so those that need a bit more help can get their account up and going.
Many people who use bovada.eu claim that they have the best customer service in the online betting business. Not only is every member of the staff expertly trained, the people who manage customer complaints, questions or customer service are fast and friendly every time you pick up the phone. People often say they would rather work with the customer service center than use many of the automatic services because they get instant confirmation that all is well and it is just as fast to work with the professionals as it is to set up the instant payments on the webpage. Betting and customer service options are available 24/7 for optimum convenience for betters.
The webpage offers if bets, action points, reverse bets and online withdrawal so users do not have to worry about signing up with a wide variety of other accounts in order to get their betting up and going. The website offers very low minimum bets for people that are just getting started. The minimum bets on the site are $1 and $50 over the phone, though players can start a graduated MLB line for as low as 20 cents if they so choose. Limits can be lowered for professional players, which make it even easier to have multiple bets going at once.
Bovada.lv focuses on offering consistent bonuses rather than a wide variety. All new players will earn a 50 percent free play bonus which can be worth up to $250. Players have a month from the initial deposit date to take advantage of this bonus. The webpage will also run frequent promotions such as race book rebates or poker bad beat bonuses for those that like to play casino games on the webpage. Bovada also makes a point of offering bonuses on long sports seasons as encouragement for those that are planning on making continued bets throughout the webpage. One of the most popular of these is the MLB promotion which offers free bets the next day, usually around $5 in value.
Many also say that if you plan on betting across a season, Bovada has some of the best betting coverage in the business. People can invest in live coverage apps to get information about every play during the game with up to date options on how they can continue to bet on the outcome. This is also available for track betting via the Race book, which makes it easy to update or alternate betting schedules as needed to keep up in real time.