Week 11 NCAA Football Betting Preview
November 8, 2013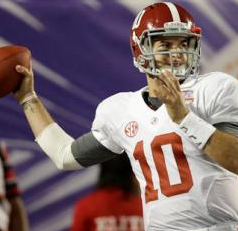 This is a great time of year for sportsbooks around the country and the world as football and basketball are the biggest draws for sports betting dollars. It may also be the time of year that bettors lose the most money as both games are notoriously difficult to run a long-term profit in. In order to improve the likelihood of coming away with a win, bettors can increase their odds by betting on baseball and hockey, both are sports that the gambler has a slight advantage on over the sportsbook or by increasing their knowledge of the sport. Studying all the ins and outs of the competitors such as handicaps, injuries, and betting angles can give a bettor an edge. With all that being said here is a quick look at a couple of the more popular games being played this weekend, it's never too early to start studying!
Probably one of the most contentious games this week is Louisiana State University (LSU) at Alabama. With these two teams' long standing rivalry and the fact that number one ranked Alabama won the last two match ups, it is sure to be a widely followed and gambled game. The current point spread for the game is LSU at 12.5 and Alabama at -12.5 and a money line of 395 for LSU and -490 for Alabama. The series record for these teams is Alabama leading with 47 wins, 25 losses, and 5 ties. There is a lot at stake as well; Alabama is looking for their third consecutive national title and LSU is looking to stay in the running for a BCS bowl game.
Another of the many great games this Saturday is Nebraska at Michigan. Nebraska had a great win last week with its Hail Mary against Northwestern and would put themselves in contention to tie for first place in the Big Ten Legends Division with a win. Michigan is looking to recover from last week's tough loss to Michigan State. The point spread for this match up is Nebraska at 6.5 and Michigan at -6.5. The money line puts Nebraska at 205 and Michigan at -245. While these two don't have the same type of storied rivalry that LSU and Alabama enjoy, Michigan leads the series record with 4 wins, 3 losses, and 1 tie.
This week, week 11 of the 2013 college football season, is truly one of the best there is this year. With Oklahoma losing at Baylor and Oregon losing at Stanford kicking off the week and Houston at Orlando and Virginia Tech at Miami (Fla) closing out the week on Saturday night, there really is no reason to leave the couch.