3 Previews and Picks for This Week
December 11, 2013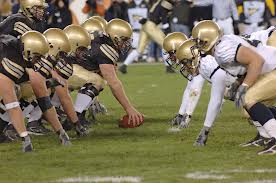 The coming week in the world of sports will feature a number of attractions, but it's now the NFL's show to an even greater extent, while college football takes a break before the bowls. This section sponsored by Wagerweb.ag, a premier online sportsbook that is rated A with SBA.
NCAA Football: Army-Navy Game
This is a game that captures the imagination of American sports fans every year. There's an awareness that this isn't just any ordinary game. This is a special part of the sports calendar, a reminder of the difference between the BCS national championship race and football that is played for the love of the game. Army and Navy produce the kinds of players that go into the military, not into the NFL draft (with a few exceptions). These players live for this game and not anything else. A bowl game is not as big as Army-Navy, so the Black Knights and Midshipmen are playing for something very precious in Philadelphia. The Navy team is better than ARMY as they are every year but throw out the record. We are taking Army plus the points here.
NFL Football: Green Bay Packers @ Dallas Cowboys
This is the featured game on FOX this weekend in the NFL. It's one of the sexy matchups in the league, featuring the two teams that played two memorable NFL championship games in the 1966 and 1967 seasons. The Packers and Cowboys were both great in the 1990s as well, and they met to decide the NFC championship on one occasion. The simple key in this game is if Green Bay quarterback Aaron Rodgers can finally come off the shelf and play with an injury suffered weeks ago. The line isn't available for this one yet. But I say seriously consider Dallas if they are a TD or under favorite.
NFL Football: New Orleans Saints @ St. Louis Rams
This game is a big one for the Saints, who – after beating the Carolina Panthers this past Sunday night – have the inside track to the NFC South title and the second seed in the NFC, which would create a first-round bye for the team. New Orleans should be able to do well against a St. Louis squad that has crumbled the past two weeks after being brilliantly explosive in its preceding pair of games. New Orleans is -5.5 – It seems so obvious everyone will take the Saints in this game. but it is on turf and we can easily see the Saints winning by a TD or more.
brought to you by Wagerweb