What to Expect From First Week College Bowl Games
December 20, 2013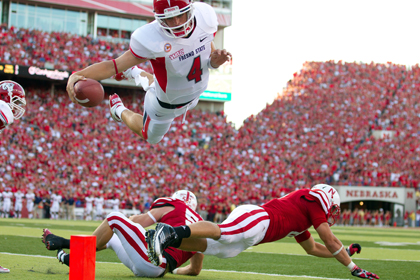 The first five college bowl games will kick off in mid-December before Christmas. The postseason will feature some well-known teams as well as a few that may not have been expected to gain bowl entry. Let's take a quick look at each game and see how the teams got there and which ones are favored.
The First Five BCS Bowl Game Matchups
Colorado State will take on Washington State in Gildan's New Mexico Bowl.  Colorado is making its first bowl appearance since 2008 when it won this very bowl game.  However, Washington State hasn't seen bowl play since 2003.  Predictions call for Colorado State to overtake Washington by a score of 38-31.
The Royal Purple Las Vegas Bowl will pit Fresno State against USC.  Fresno has a super strong defense, as well as quarterback Derek Carr who leads the FBS with 4,866 yards and 48 touchdowns.   USC rallied mid-season with an interim coach after firing their head coach and overcoming a rash of injuries to win themselves a bowl bid.  This one looks to be close with Fresno beating out USC by a point spread of only six.
Buffalo will meet San Diego State in the Famous Idaho Potato Bowl.  Buffalo is making its second bowl appearance in school history and is hungry for a win.  San Diego had a slow start going 0-3 for the first three games.  They then hit a winning streak claiming the next seven out of eight.  With San Diego in a bowl for the fourth straight year, they are favored to win over Buffalo 30-24.
It's all Louisiana at the R&S Carriers New Orleans Bowl with Tulane against Louisiana-Lafayette.  Tulane, who plays their home games in the Superdome, will see bowl action for the first time since 2002. Louisiana-Lafayette is playing in this particular bowl for the third year in a row.  Louisiana-Lafayette is expected to shut out Tulane with a score of 27-17.
East Carolina faces Ohio in the Beef O-Brady's bowl and it looks to be quite a game.  While East Carolina is 10th nationally in scoring, Ohio is seeing post-season action for the fifth straight year.  This one will be fun to watch, as both teams are known for talented play. However, East Carolina is highly favored over Ohio with a point spread of 14.
The Sheraton Hawaii Bowl will match up Boise State and Oregon State.  The Broncos are making their 12th consecutive post season appearance and are doing it with an interim coach, after their head coach resigned to take a position in another spot.  Although Oregon barely made it into bowl play, they are projected to win over Boise State with a narrow one point margin of 35-34.
With Post season running through early January, there is sure to be plenty of excitement, cheers and a few tears (both of joy and of pain). If the rest of the games look to be half as interesting as the first week, we are definitely in for quite an exciting ride.