Carbon Sports Saturday NFL Previews
January 10, 2014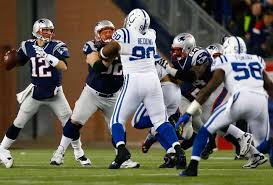 If you are a regular visitor here at SBA you maybe have noticed the new #2 spot is Carbon Sports. We liked what we saw from this outfit and entered them into the rating with A+ rating. We also contacted them to see if they were interested in a mutual deal where they would provide some content and news to our readers. They obliged. Here below are two great NFL betting previews for this weeks action, all four NFL games. Enjoy the free previews and look for more information about Carbon Sports in the near future. ~ SBA Staff
Saturday's NFL Divisional Playoff Free Picks – Don't Trust The Road Dogs
By CarbonSports
If you're like everyone else on the planet, you probably love the hard charging Saints and Colts as road dogs this weekend. Fortunately, I'm here to talk some sense in to you. Read on to find out where your money is safe this weekend. The first game between New Orleans and Seattle kicks off at 4:35pm EST, while the night game featuring Indianapolis and New England starts at 8:15pm EST.
New Orleans Saints at Seattle Seahawks -7.5 (46)
The Saints are an easy team to fall in love with because they have one of the best coaches and a Hall of Fame worthy quarterback. But even with Brees and Payton, it's hard to stomach a bet on the Saints this weekend for the simple reason that they're a bad road team playing against a vicious home side. Last weekend's win over the Philadelphia Eagles barley improved the road record of these Saints. New Orleans is now just 1-6 ATS in their last 7 matchups away from the Superdome.
Beyond that, you can't just look at the victory against the Eagles and say that "the Saints are back!" with any type of legitimate confidence. Philly had a very bad start to the game, and that allowed New Orleans to turn up the volume on their run game against a deficient and lame Philadelphia front-seven. In other words, a buffet of good fortune allowed the Saints to stay within arm's reach of their wild card weekend. Hoping that they enjoy the same luck in Seattle is a pipe dream.
Keep in mind that New Orleans averaged a worrisome -6.7 point differential in their last 6 away games while going just 2-6 SU overall as well. I know that doesn't look bad, but the Saints were also favored in four of their road games and played so poorly that you wouldn't have recognized them had they not been wearing their uniforms.  Simply put, it's impossible to trust New Orleans as a travelling commodity in the sportsbook.
It's even harder to discuss them as a cover team when they're playing in Seattle. The Seahawks have gone a blissful 37-17-1 ATS in their last 55 home games which is as unreal as it sounds. Even though they struggled against Tampa and lost outright to Arizona, the Seahawks were still 5-3 ATS at home and averaged a dominating +15.4 point differential on their own turf.
Even if this is a tight game, New Orleans won't find room to run against the best overall defense in the league. Seattle averaged just 101.6 yards against on the ground this season, and were first in terms of total yards, passing yards and points surrendered. There won't be any room for Brees and company to work with, and the Seahawks will have their way with the scoreboard in front of their obscenely boisterous fan base.
I understand why New Orleans offers some charm as major dogs this weekend, but I'm not biting on it. By almost every metric, this is a disaster in the making for New Orleans and they are not the same team that barely lost to Seattle in the playoffs two years ago. The Seahawks have been one of the best overall betting teams in the league this year, and that won't change this weekend. The NFC Championship, however, might be a different story but that's for another time.
NFL Divisional Round Playoff Pick – Seattle  (UNDER)
Indianapolis Colts at New England Patriots -7 (52)
The Colts made headlines last weekend with a 28-point comeback against the Chiefs that was historic in its own right and absolutely thrilling to watch. But you have to remember one, simple fact – they were down by four touchdowns to begin with. This Colts team took advantage of a shaky Kansas defensive unit that didn't end the season well, and used the will power of their home fans to propel them to a stunning upset.
That won't happen in New England. The Patriots are not the Chiefs, and if we know anything about Brady it's that he won't take his foot of your throat when he has the advantage – if anything he just presses down harder.
With two weeks of rest and plenty of time to design a sturdy game plan against Pagano's Colts, the Patriots are in line to absolutely destroy the Colts. New England finished defiantly strong by outscoring Baltimore and Buffalo by combined scores of 55-27, and while they were not a great betting team, the playoffs are a different animal.
The Colts are also a troubling team because if you're betting on the points here, you're practically hoping for a cover. Indianapolis has a strange habit of getting destroyed in losses, and we forget this because they only gave up five games this year. In those matchups, Indy surrendered an alarming -17.4 point differential in their five losses. By comparison, the Patriots lost by an average of just -4.3 points per game in their own four defeats.
I also suspect that Indianapolis spent the majority of their emotional energy last weekend, which means that they might not enter this matchup with the vitriol that you need to win in Foxboro. Add to the mix their 2-5 ATS record when playing on the road against teams with winning records, and New England's 6-1 ATS record at home and you have all the reasons you need to bet on New England as heavy favorites this weekend.
NFL Divisional Round Playoff Pick – New England  (UNDER)