Point Shaving in Sports Betting History
January 27, 2014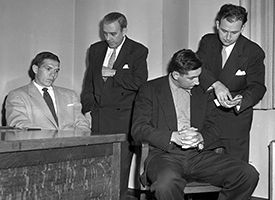 The title names this scandal a candidate for one of the worst events in sports betting history and that's because the point shaving scandal of 1951 was one bad.  Here we'll take a closer look, describing the events which caused this to be such a well-known event in the history of sports betting.
The many instances
While the scandal is often described as an incident isolated to 1951, it turns out that this was just the year when all of the shady dealings came to light.  The actual events of the scandal had been going on for some time and most of the instances occurred between the years of 1947 and 1951.  The Point Shaving Scandal of 1951 is known today as one of the largest sports betting scandals in the entire history of college basketball.
* During the years mentioned, 35 former as well as active college players were accused of fixing games
* In total, 86 games were said to have been fixed
* 20 players were not only indicted but were later convicted for charges stemming from the scandal
* There were 14 gamblers who were both indicted and convicted (not a good way to end a sports betting career)
*It wasn't only the reputations of the coaches and players involved that were ruined … the scandal also destroyed their careers.
Names and Offenses
Some of the big names involved in the scandal were Sherman White, Jock Molinas, Alex Groza and Ralph Beard.  Molinas in particular had engaged in sports betting as he made bets with a sportsbook on the outcome of games his own team was involved in.  Molinas had a very short career in the NBA where he averaged 12 points per game before he was banned from playing the sport professionally for life.
Groza and Beard both had promising careers and had been not only first round draft picks but also Kentucky All-Americans.  They had each enjoyed two years of professional ball when the scandal broke and it was discovered that they had shaved points in connection with sports betting.  They were both immediately banned from the NBA for life.
Sherman White could have been the Michael Jordan of his time – that's how good he was.  But tragically, White was so involved in the scandal that after it was discovered that he had connections with a sportsbook and was shaving points to benefit from sports betting, he was charged, convicted and spent 9 months in prison for fixing the outcome of his games.
Long-Term Consequences
48 years later, in 1999, the Point Shaving Scandal of 1951 was named the worst event in sports history by New York Newsday.  That's saying something for a New York publication because it beat out both the Giants and the Dodgers defecting.