Super Bowl XLVIII Prop Betting
January 30, 2014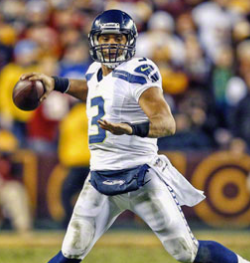 EITHER TEAM SCORES IN FIRST SIX MINUTES (Yes +105, No -125)
This one seems like a gimme. The Broncos are defensively deficient, and the Seahawks could fall victim to a hurry-up offence executed by Peyton Manning. Betting YES at +105 is free money on the table. At the very least, Matt Prater is going to put his right foot to work from range before the six-minute mark. Don't let this Super Bowl XLVIII prop bet slide you by. It's practically free money.
MARSHAWN LYNCH SCORES A FIRST HALF TD (YES +160)
If there's any glaring weakness on Denver, it's their rush defense. They ended the season with just 101.6 yards allowed on the ground per game, which actually tied them with Seattle. But the major difference is that they faced the eighth fewest rushing attempts of any team. The strength of this defense is the secondary bolstered by Rodgers-Cromartie and Champ Bailey. For the Seahawks to win, Lynch will have to be unleashed against this porous front-seven early and often. There's a much stronger chance that Lynch scores in the first half because the game could very well be out of hand in the second.
Lynch is the strongest and most reliable offensive weapon that Seattle has and he's posted rushing touchdowns of 40, 31 and 15 yards in the post season already. He'll be ready to rumble, and you can make some easy scratch off his back by betting these +160 odds. I personally recommend a prop bet cap of $50 per bet, but this is one where you can let loose a little. This might not be listed under the Super Bowl Fun Props section, but few things are as enjoyable as seeing Beast Mode trucking suckers in to the ground.
GATORE COLOR (Clear +200 or Orange +450)
The front runner for this bet is that the winning coach actually avoids getting showered at EVEN odds, but where's the fun in that? I'd say that the best bet is actually clear/water at +200 but I have a sneaking suspicion that the Denver Broncos will have some orange Gatorade (+450) brewing in their cauldrons for this one. If you expect the Broncos to win the Super Bowl like I do, then water and orange are your two best bets.
OMAHA!!!!
You can actually bet on Peyton Manning screaming "Omaha!" as one of our Super Bowl Fun Props. I love gambling so much sometimes. The TOTAL is set at 28.5, which is a pretty perfect number considering that he yelled the term 31 times at the AFC Championship game against New England. I always prefer OVER bets when it comes to TOTALS and you should too, especially with this prop bet. It's probably a dead call at this point in the Denver season, but Peyton still shouts it all the damn time and you can either be cheerful or angry when he does so. The choice is yours.