Top NBA Teams That Are Covering the Spread in 2013-2014
February 13, 2014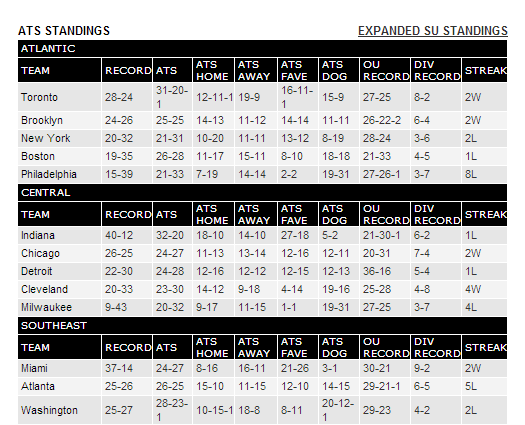 It has been an entertaining NBA season, to say the least. Miami is attempting to three-peat, but a few teams have proven they have what it takes to challenge the Heat. But before we start thinking about the NBA Finals, let's go over some ways to potentially cash in on bets against the spread the rest of the season. In order to do that, I want to take a look at the top NBA teams that have done an excellent job of covering the spread up to mid-February:
Indiana Pacers (32-20 ATS, 40-12 W-L)
The surprising best team in the NBA is the Indiana Pacers. If you predicted Indiana would have 40 wins as of February 11, consider yourself a genius. The Pacers have the second highest winning percentage ATS (.627). It's not that Indiana wasn't considered a contender in the preseason, but to expect a 40-11 record thus far was unrealistic. This is a team with depth, size, perimeter shooting, athleticism and outstanding defense.
Why They're Covering the Spread: Indiana still isn't getting the respect they deserve from the general public and even the heavy bettors. Bettors will soon take notice of just how great this team is.
Will They Continue Covering?: I expect Indiana's ATS record the remainder of the season to be closer to .500 than its current .627. The smart bettors will start betting heavily on Indiana, which will adjust the spread in favor of the underdog more often.
Phoenix Suns (32-17-2 ATS, 30-21 W-L)
One of the best stories in the NBA is the Phoenix Suns, led by first year coach Jeff Hornacek. Absolutely no one expected this team to contend for a playoff spot. But with 32 games remaining, the Suns are securely in the playoffs. That doesn't mean they won't collapse and miss the playoffs. However, Phoenix has proven they have what it takes to compete in the Western Conference.
Why They're Covering the Spread: Phoenix simply isn't getting respect amongst bettors. And I completely understand. It's still hard for me to believe they have such an impressive record.
Will They Continue Covering?: Unlike Indiana, I do expect Phoenix to continue to cover the spread at a high rate. Phoenix still won't get much respect, therefore, it's a smart play to ride the Suns to profits.
Oklahoma City Thunder (32-22 ATS, 42-12 W-L)
Miami's biggest threat to end their dynasty is the Thunder, led by Kevin Durant's season for the ages. Oklahoma City is not only beating teams right now, they're absolutely dominating games. Although the Thunder were a preseason contender, they're even better than expected. Durant is unstoppable. He's so good that even LeBron James was quoted as saying he's impossible to defense one-on-one.
Why They're Covering the Spread: Oklahoma City is running roughshod over its opponents. That's all there is to it.
Will They Continue Covering?: I can't see Oklahoma City letting up any time soon so, yes, I expect them to cover the spread at about the same rate as they have up to this point (.585)
Portland Trail Blazers (29-24 ATS, 36-17 W-L)
If you predicted Portland would be resting in the #3 seed after 51 games, you're lying. Portland is pulling off quite an impressive season and it's not a fluke. This team is legit. If you're not familiar with the names Damian Lillard and Wesley Matthews, you better start paying attention. Along with LaMarcus Aldridge, this trio of players is as good as it gets in the NBA. Portland certainly won't be the favorite to win the NBA title, but if you're looking for a value futures bet, this might be your team.
Why They're Covering the Spread: This is another team that wasn't projected to be near as good as they turned out to be.
For our standings and matchup tool
To deposit at Bovada using Credit Card