Wednesday College Basketball Betting
February 19, 2014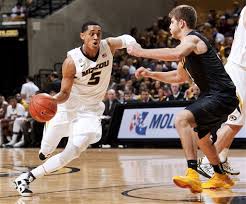 Presented By: CarbonSports
Game #1: Vanderbilt @ Missouri (-9)
Missouri is hoping that home court advantage can help them even up the season series with Vanderbilt tonight after the Tigers fell 78-75 to the Commodores in the first meeting. Neither team shot the ball particularly well in that one as both finished the game under 40% from the field, but it was Vandy's 12 3-pointers that made the difference as Mizzou only knocked down half that from long range. I don't believe we will see guys like Rod Odom and Kyle Fuller (10-for 24 from 3) go off for Vandy again on the road and that's why we've got the double digit spread.
Missouri is also 12-2 SU at home this year compared to Vanderbilt's 2-5 SU record on the road and the Commodores come into this one struggling having gone 0-3 ATS in their last three overall. Vandy is 11-5 ATS in their last 16 away from home, but the last time they were getting this many points against a conference rival was @ LSU earlier this year (+9.5) and they were blown out by 23. The Commodores shot 35% that night and only hit five of their 20 3-point attempts and that's very similar to how I see this game playing out.
Missouri is considered one of those "bubble teams" right now in terms of getting into the NCAA tournament and these are the types of games they've got to make a statement. They've squeaked out two small wins here at home last week against Arkansas and Tennessee and they can't have a similar performance tonight against a much worse Vanderbilt squad. Last year when they hosted the Commodores they were laying 12.5 and won by 22 thanks to superb shooting and by averaging 75.7 at home this year I think we will see a similar performance.
I would not be scared to lay the points with the home team tonight.
Game #2: Arizona State @ Colorado (-4.5)
Colorado is another home team looking for revenge after they lost by 21 at Arizona State earlier this year. The Buffaloes have won four of five coming into this once since that loss to ASU and although they've got Arizona on deck, there is no chance that they are looking past the Sun Devils tonight.
Arizona State won't be looking past Colorado, but they make still be looking back at their OT win over rival Arizona last Friday as they were able to avenge their own 20+-point loss to a hated rival. They've now won six of their last seven (three OT wins) and their confidence level has got to be through the roof. However, they've struggled all year ATS on the road and with the way Colorado is scoring these days (79/game over last five), Arizona State might not have the offense to keep up.
Colorado can't be happy with three straight losses to the Sun Devils after they were swept last year and the 51 points they put up against ASU in that 1st meeting was their lowest output to date. They've managed to cover the number in three of their last four at home overall and they won't let ASU shoot over 47% from distance and 48% from the field again tonight.
Colorado was clearly caught flat-footed in that last meeting as it was two days after they put everything they had in trying to beat #1 Arizona at the time and there just wasn't much left in the tank. I fully expect the Buffaloes to flip the script tonight and I would not be surprised if they put a double-digit beating on Arizona State with the Sun Devils in a huge letdown spot.