Should You Still Be Confident in Syracuse's NCAA Title Hopes?
February 26, 2014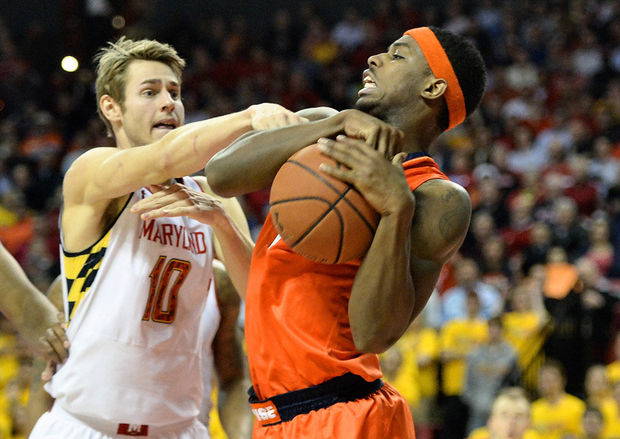 Prior to the start of last week, Syracuse was unbeaten. A week later, they have two losses and nearly choked away a game against a mediocre Maryland team. Now we have to start wondering if the season-long favorite to win it all is still worth betting on, or if it's time to give up on the 'Cuse. Syracuse is no longer the favorite to win the national title. Heck, they aren't even ranked in the Top 3 of the AP Poll. Vegas odds list the Orange at 15/2 to win the national title, just ahead of Duke (8/1) and Kansas (8/1). Florida is now the favorite (5/1).
Syracuse's stock continues to decline after starting the season 24-0. But now that their odds to win the national title are a bit more favorable to the bettors, are they a more attractive betting option? Yes, but I still wouldn't put any money on the 'Cuse to win it all. 15/2 odds win the bettor more money than when Syracuse was 6/1, but I'm just not a believer.
My problem with Syracuse is they've overachieved all year. They're well coached, clearly, but the law of averages are beginning to come around. In my opinion, this isn't a great tournament team. I like Tyler Ennis at point guard and we all know that point guard play is crucial to success in the NCAA Tournament. And CJ Fair will be playing in the NBA next year. But I have two concerns with Syracuse…
Shooting and Avoiding a Streaky Shooting Opponent
Match-ups will be key for Syracuse in the NCAA Tournament. Their zone defense gives many teams fits, but if they run into a streaky 3-point shooting team, it could be lights out for the 'Cuse. Can Syracuse make it through 6 rounds against quality opponents without facing a team that goes on a hot streak from the perimeter? Maybe, but probably not. This is one of the main reasons so many Jim Boeheim coached teams have flamed out early in the NCAA Tournament.
Another concern I have for Syracuse is what kind of perimeter production they will have. There's no secret this isn't the greatest 3-point shooting team in the world. If you want to win the NCAA Tournament, you'll need a few games of hot 3-point shooting. I'm not sure Syracuse has it in them. They are difficult to score on down low, have good ball handlers and are well coached, but I think there are too many quality teams that can create serious mismatches against them.
Just Not Enough Value to Make This Pick
It's not that I don't think Syracuse has any chance to win it all. When you have an Ennis-Fair combo, you'll have a shot. But I need better odds than 15/2 in order to put my money on Syracuse to win the national title. If you play out the NCAA Tournament 100 times, Syracuse wins maybe one out of 10 at best. I would consider throwing down money on them to win if the odds were 10/1, definitely at 12/1.
So who do I think is going to win the NCAA Tournament? If I were a betting man…oh, wait, I am…I would predict Florida to win it all. Billy Donovan has done it twice and has a roster capable of getting him championship #3. That team is more suited for advancing through 6 tough rounds in the NCAA Tournament. Even though Florida's odds to win it all are less favorable (5/1) since they are the favorites, I still think there is more value in that pick than Syracuse.