Duke and Kansas 8/1 Odds to Win NCAA Tournament: Good or Bad Picks?
March 1, 2014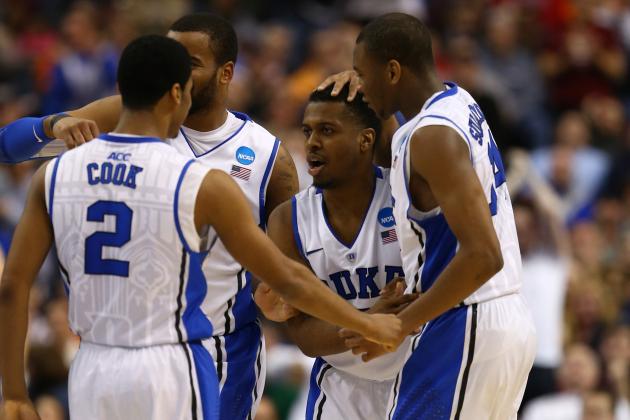 Surprise, surprise. We are fast approaching the NCAA Tournament and Duke and Kansas are among he top favorites to win the national title. It's been that way almost every year since, well…the beginning of time? These teams have combined for 7 national titles since 1988 and are almost always a factor come March. This year is no different. So let's take a look at the chances these perennial powers have to win the NCAA Tournament:
As the Freshman Goes, So Goes Duke
There's really no secret about Duke. If Jabari Parker dominates, Duke will have a chance to win any game. He's arguably the best freshman in the country and certainly will be an All-American. Parker can post up on a big down low or he can drive the lane. He is a surefire Lottery Pick. Even though Parker's play is crucial to Duke's success, this isn't a one-man basketball team.
Parker has help down low from Rodney Hood and Amile Jefferson. Hood is a big-time and Jefferson is an excellent rebounder. Duke is tough to defend in the paint and they have some tough rebounders. On the perimeter, Duke has some talent as well. The trio of Quinn Cook, Andre Dawkins and Rasheed Sulaimon all score above or just under double-digits.
Good Pick or Bad Pick? My main concern with Duke is their lack of depth. From 1-6, this is as talented of a team as there is in the country. But after that, I'm not sold on players such as Tyler Thornton, Josh Hairston, etc. Depth is going to be an issue for this team and let's not forget Jabari Parker is only a freshman. However, I do like this pick at 8/1. Duke does lack depth, but they certainly have the talent to win it all. A bet on Duke at 8/1 is a good bet, in my opinion.
Kansas Loaded With Talent, But…
I've watched Kansas play this year probably a dozen times and I don't know what it is, they just don't it for me. They don't look crisp. I'm not sure if it's a lack of team chemistry or if their lack of a great ball handler is the problem. But there's just something about Kansas that leaves a lot to be desired. With that said, there's no denying Kansas has incredible talent. In fact, they probably have more pure talent than any other team in the country.
Andrew Wiggins and Joel Embiid are both going to be Top 5 picks in the NBA Draft (assuming they turn pro early). Wiggins is explosive and can occasionally knock down a perimeter shot. He's darn near impossible to defend one-on-one. Embiid has been the talk of the country the past month. He continually improves and can dominate games down low at times. Kansas' areas of weakness are consistent 3-point shooting and lacking a true point guard.
Good Pick or Bad Pick? There's no denying Kansas' talent. Any time you have 2 potential #1 Draft Picks in the lineup, you'll have a chance to beat anyone. But Kansas has 2 glaring weaknesses that are not conducive to winning in March. First off, they are not a great ball handling team. They've had far too many 15+ turnover games. Additionally, Kansas doesn't have a pure 3-point shooter. Because of those two factors, despite all the talent, I can't see Kansas winning it all. 8/1 odds aren't even close to being favorable enough to get me to bet on Kansas. I would stay away.