Is Iowa (33/1) a Sleeper National Title Contender or an NCAA Tournament Bust?
March 2, 2014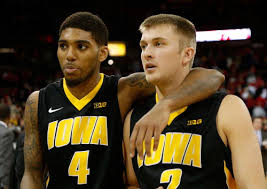 The Iowa Hawkeyes came into the season with high expectations. They haven't quite delivered. Iowa currently stands at 19-8 following a tough loss to Minnesota. The Hawkeyes seem to have everything it takes to make a deep run in the NCAA Tournament. They have experience, depth, shooters, talent, size and decent athleticism. Sounds like the perfect NCAA Tournament team to bet on, especially with 33/1 odds, right? Not exactly…
Iowa has all the makings for a deep tournament run except one major thing…
Dan Dakich of ESPN made a comment when announcing the Iowa-Ohio State game on ESPN a couple of weeks ago about Iowa having the depth, size, experience and talent to compete for a national title. But he also said the one thing holding them back is a lack of mental toughness. I completely agree with his statement. Iowa is one of the most mentally weak basketball teams you will see.
Roy Devyn Marble scores 16 points a game and is one of the Big-10's best players. But he is virtually worthless down the stretch of big games. Marble is one of those players good enough to get his team in a position to win, but not good enough to hit a big shot late to win the game. He isn't the only problem. Iowa has tried virtually everyone on their 10-man rotation late in games and they get the same results as Marble. The Hawkeyes failed miserably so many times last season late in big games and that is why they ended up in the NIT. Nothing has changed for this team in big games this year. They still cannot get over the hump.
BUT…Iowa still has a shot…
The thing about Iowa is they do have most of the makings for the perfect NCAA Tournament team. And what I really like about them is they can beat anyone. They're good enough to beat even teams like Syracuse, Arizona, etc. If Marble has a big game and Josh Oglesby goes on a hot streak from the perimeter, they can run any team out of the gym.
When the NCAA Tournament comes around, Iowa will have lost most of its respect from the bettors. They are just 2-7 versus the Top 50 of the RPI. The general public won't like that. However, if you dig deeper, you'll realize most of those 7 losses came right at the very end. Again, it goes back to their lack of mental toughness and an ability to find a clutch scorer. But here's the thing about Iowa. They are good enough to blowout any opponent like they did Michigan a few weeks back. No need for clutch scoring in those games.
Do I think Iowa is going to win the national title? No. But I do think making a deep run is a possibility because of their depth and talent. With 33/1 odds to win it all, Iowa isn't a bad sleeper national title pick. Even if you aren't confident enough to bet on Iowa to win it all, I would look for favorable lines on games involving the Hawkeyes. Like I said, they won't get much respect from the general public, but they're the type of team that could make you some money this March. You just better hope the game doesn't come down to the last minute. If so, you might as well throw away your betting ticket before the game ends. It will be an automatic loss.