Top Four College Hoops Games Saturday
March 7, 2014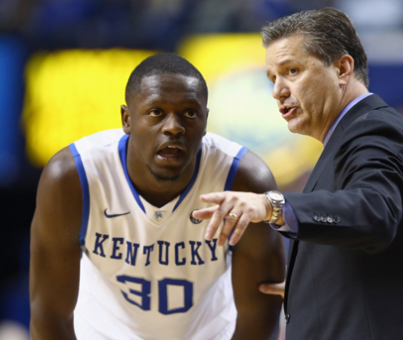 By: CarbonSports
The biggest game on the board gets going right off the bat as the Kentucky Wildcats are looking to put their recent struggles behind them and finish the regular season with a win over #1 Florida. The Gators are a perfect 17-0 SU at home and won the first meeting by 10, so look for them to be laying plenty of points against a Kentucky team that is 0-4 ATS (2-2 SU) in their last four coming in.
But I wouldn't be so quick to dismiss the Wildcats in this one because they are in desperate need of a strong performance before the tournaments start. The confidence they could gain from an outright win tonight could carry them all the way to the Final Four or beyond and the Gators are 0-5 ATS after winning by 20+ points. Florida is also 1-5 ATS after holding an opponent to less than 50, so don't be afraid to take the points with a Kentucky team that everyone's looking to stay away from these days.
Louisville won the first meeting by eight in mid-January and with a conference title hanging in the balance, I expect the Cardinals to be in fine form all afternoon.
Connecticut has had a great season so far and will be a threat in the tournament, but it's been a long time since they've have to face a tough test on the road (Feb 6th) and the hostile environment should swallow them up today. However, it will be interesting to see just how many points they will be getting in this spot because oddsmakers have to try and balance the action both ways.
As contradictory as it may sound, the more points Louisville is laying, the more inclined I will be to take them because that means the oddsmakers figure like I do that a veteran Cardinals team will run all over Connecticut in this one and bettors won't be shy about taking all those points with the Huskies given their ranking.
It's senior day at Creighton for this one and it should be a special day for two guys involved with the team. Head coach Greg McDermott will get to see his son Dough walk out onto the floor for the final time as a college basketball player before heading off to the pros next year. The younger McDermott is the front runner for Player of the Year in college basketball and it's been his superstar play over the past few seasons that made Creighton a powerful program these days.
There is still a game to be played though and although the Blue Jays are coming off two straight losses and are 2-7 ATS in their last nine overall, I'm expecting them to be laying some heavy chalk tonight in their revenge game with Providence. Creighton lost by 13 @ Providence in mid-January this year and need to finish out the year strong before the conference tournament comes around. With all the emotion in the arena for this one, I expect McDermott and his teammates to come out firing and I wouldn't hesitate to lay the points with the home team here when the line comes out.
Can't have a final Saturday of the CBB season without a UNC/Duke game and both teams obviously got caught looking ahead to this one with some flat performances earlier this week. North Carolina was at least able to stave off the outright loss as 12-point favorites but the same can't be said for a Duke squad that lost by 10 as 12-point chalk to lowly Wake Forest.
But the Blue Devils have a lot of factors working in their favor for this game and with them being the favs again for this game I know I'll be on their side. For one, Duke hasn't lost outright twice in a row all year and they are 4-1-1 ATS after a loss this season. Secondly, they've got the revenge factor on their side after they lost 74-66 in Chapel Hill a few weeks back and they haven't been swept by the Tar Heels in years.
Finally, the emotion and intensity that will be in the Cameron Indoor Arena will be electric as this will be the last time their fans see this roster on the floor with many guys moving on to the pros next year and coming off an embarrassing loss like they are only means that Coach K will be on their ass from start to finish. Duke is a much better team at home and they might get a few more calls after UNC made 13 more free throws on 19 more attempts in the first meeting. Those points were the difference in the game and I would not be surprised to see the Blue Devils put a serious beating on UNC this time around.