Final Four Betting Strategy
March 31, 2014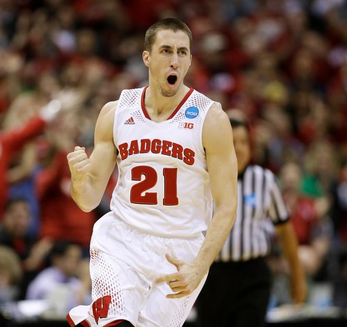 The Final Four teams are set. Florida meets UConn and Kentucky plays Wisconsin.  In our office meeting after the Elite 8 games we formulated what we thought the spreads should be (without looking at the actual spreads of course).  We had Florida -8 and Wisconsin -2. So when we saw Florida -6 and Kentucky -2 we saw some clear cut early leans.  Food for thought.  Anyway, check out this article about Final Four strategy written by one of our staffers:
If you're like me, you've already ripped up your brackets. Oh, and by the way, I'm talking about the men's basketball tournament here. So if you're one of the 2 or 3 women's basketball fans in the country, this article doesn't pertain to you. Moving on…
For those of you off to a poor start in the NCAA Tournament, I have some tips for you to turn things around during the Final Four and get your money back. If you follow this advice, you'll finish off strong and hopefully turn out a profit for the NCAA Tournament. Let's get started…
Talent usually wins out…
The first round or two, we see some crazy upsets. Once the Final Four approaches, talent is usually victorious. Teams that have escaped the early round upsets are now going to take games more seriously because now they're playing for all the marbles. And the fact that these teams have escaped upset shows me they're mentally tough teams. Talent doesn't ALWAYS win, even in the Final Four, but it does most of the time.
When talent is even, it's all about the match-ups…
What happens when two teams have equal talent? The team that can create the biggest mismatches will win. It's as simple as that. So if you find a game where the teams have equal talent, bet on the team that might have a major edge. It could be something such as a great perimeter shooting team facing a soft perimeter defensive team. Dig deep to find an edge. Then take a look at the line and see if there is an underdog that you feel will create a big mismatch against its opponent.
Increase the size of your bets…
I'm normally against betting unusually large sums of money on one or two games. But I do think this is the exception, and not only in order to recuperate losses. The first couple rounds of the tournament bring some big upsets. So I don't think betting heavy on any individual game is a smart play. However, the Final Four is more about talent and match-ups than the first couple of rounds. Why? Because, like I said earlier, now the teams are playing for all the marbles so you'll see 100% effort. If you want to make those early round losses back in just a couple of games, bet more than normal on Final Four games.
Bet the spread on the favorite or the moneyline on the underdog…
Very rarely are the spreads on Final Four games high, especially this year where there aren't any dominant teams. Since the spread is likely to be fairly low on any Final Four game this year, it's best to take the –110 and bet the spread if you like the favorite or bet the moneyline on the underdog. There's far more value and potential to win good money this way. For example, let's say Team A is +2.5 or +120. If you bet the 2.5, you get –110 odds – or $110 to win $100. If you bet the moneyline you wager $100 to win $120. Yes, those 3 points COULD be the difference between a win and a loss to a bettor, but more likely than not if a team is going to lose they will lose by 3+. Therefore, there is more value betting the moneyline on an underdog with a low spread. Bet tournament actions at one of our TOP SPORTSBOOKS