2014 Belmont Stakes Triple Crown Betting Guide
May 21, 2014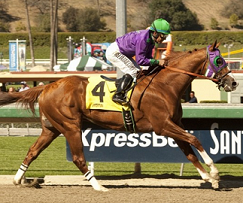 On June 7th, horse race fans will be glued to NBC in the evening. That day will mark the 148th running of The Belmont Stakes. But that isn't the real story. Kentucky Derby and Preakness winner, California Chrome, will attempt to sweep horse racing's premiere races and claim the Triple Crown. Think this isn't a big deal and the only thing at stake is the money you are going to wager? Think again. This is a big day in sports, not just horse racing.
In 1978, legendary horse Affirmed claimed horse racing's 12th Triple Crown. Since then, no horse has pulled off this amazing feat. California Chrome will attempt to end the 36-year drought. This horse is the overwhelming favorite to win the Belmont Stakes (-115), but that is no guarantee. The main reason for such low odds is due to the public jumping on the California Chrome bandwagon.
Since Affirmed's 1978 Triple Crown, 11 horses have made it to the Belmont Stakes with Triple Crown aspirations. None of them won the race. That list includes some legendary horses such as War Emblem, Funny Cide, Charismatic and Smarty Jones. They were all favorites to win the Belmont Stakes, but left bettors and fans disappointed. Does that mean you shouldn't wager on California Chrome? No. In fact, California Chrome is the horse most likely to win the race and is the most prepared. Let's take a look at the updated 2014 Belmont Stakes betting odds:
| | |
| --- | --- |
| Horse | Odds |
| California Chrome | -115 |
| Commanding Curve | +1200 |
| Commissioner | +3500 |
| Danza | +800 |
| Intense Holiday | +3500 |
| Kid Cruz | +5000 |
| Ride On Curlin | +500 |
| Samraat | +2500 |
| Social Inclusion | +3000 |
| Tonalist | +1200 |
| Wicked Strong | +1200 |
Ride On Curlin, Danza, Wicked Strong and Tonalist are horses some experts think will defeat California Chrome. But, let's be honest here, the spotlight on June 7th will be squarely on California Chrome and jockey Victor Espinoza. A victory by California Chrome will do wonders for the sport of horse racing, similar to when Tiger Woods wins golf major events. The sport of golf is better when someone like Woods is on top. He's a polarizing athlete so, when he wins, golf wins.
A Triple Crown winner could do wonders for the sport of horse racing. There are many fans on the fence about the sport and many fans that are only casual fans/bettors. The sport would gain another legendary figure (California Chrome) that casual fans recognize. There aren't many horses casual fans could name since Affirmed won the Triple Crown in 1978.
The pressure is on, but you shouldn't get caught up in the hype
One mistake horse racing bettors make is to get caught up in the hype. Like I said, there have been 11 horses with Triple Crown aspirations since 1978, and none came out victorious at the Belmont Stakes. Even though California Chrome winning the Triple Crown would be great for the sport, you can't get up in the hype. Your wager should be based on the horse you think is going to win.
If that horse happens to be California Chrome, great. If not, so be it. Like any other sport, sports bettors often get caught up in media hype. Succumbing to media hype will kill your bankroll in the long run. The main reason – not the only reason – California Chrome is currently –115 is due to the hype surrounding the Triple Crown. So which horse am I going to bet on to win? California Chrome, baby!  Bet the race now at BetOnline and get 7% rebate.
Check out these prop odds by Bovada Sportsbook:
Will California Chrome win the 2014 Triple Crown?Yes                         -140

No                          +100

2014 Belmont Stakes – Margin of Victory – Will it be 2 lengths or more?

Yes                         EVEN

No                          -140

2014 Belmont Stakes – Winning time

Over 2:30.00                       -120

Under 2:30.00                    -120