Spurs-Heat NBA Finals Preview and Analysis
June 3, 2014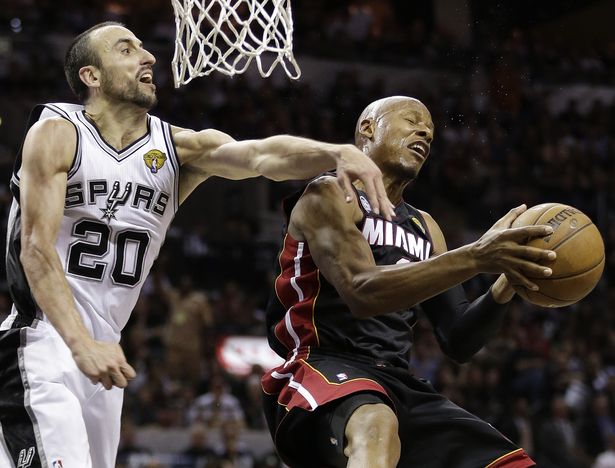 The Miami Heat look to defend their NBA title against the team they defeated a season ago – San Antonio. Tim Duncan has admitted the loss to Miami in the NBA Finals last year left a bitter taste in his mouth. Players on both sides have expressed confidence in winning the series. Come Thursday night, we'll find out which team will land the first punch. According to the oddsmakers, neither team is a big favorite to win the series. San Antonio checks in at 5:6 (slight favorite) and Miami is an even money bet.
The line will probably jump between now and tip-off Thursday night in San Antonio. It's possible the general public could jump all over the Heat due to the star power in LeBron James, Dwayne Wade and Chris Bosh. San Antonio's roster isn't full of superstars. It's a roster with a bunch of very good players. The general public typically favors teams with more recognizable names.
Breaking Down the Miami Heat
While most fans only pay attention to LeBron, D-Wade and Bosh, the Miami Heat wouldn't be where they are without a solid supporting cast. Ray Allen and Mario Chalmers play key roles in the backcourt. Allen isn't the player he once was, but he's still good for the occasional big night if he gets hot from the perimeter. San Antonio will be in trouble if Allen finds his groove in this series.
Chris Andersen adds some offense and rebounding down low for the Heat. Shane Battier gives the team a few minutes of quality defense. But the Heat win and lose, on most nights, with the Big-3. It's the most explosive trio in the NBA. When LeBron is on, even if D-Wade and Bosh aren't, Miami is tough to beat.
Breaking Down the San Antonio Spurs
San Antonio doesn't have near the talent of Miami. What they do have is depth, experience, leadership, an excellent coach and a fundamentally sound team. And they're a confident bunch. San Antonio clearly isn't intimidated by the two-time defending champs. The Spurs are essentially the same team they were a decade ago. Their success revolves around their own Big-3 – Duncan, Parker and Ginobli.
But the Spurs have a deep roster filled with quality players. Duncan, Parker and Ginobli make this train go, but Kawhi Leonard and Boris Diaw are also averaging double-figures in the playoffs. Danny Green, Tiago Splitter, Patty Mills and Marco Belinelli also provide quality minutes. San Antonio doesn't have a single superstar on the roster. Tim Duncan isn't a superstar at his age, but he's still very good. Ditto for Tony Parker and Manu Ginobli. They make up for it with depth, experience and hustle.
Predicting the Outcome
I think this series will go 7 games. San Antonio is a slight favorite because of home court advantage. But both teams are capable of winning in either arena and the series. Last year's series simply came down to Miami's Big-3 being too much for San Antonio to handle. I don't think much will be different this year. The Spurs will battle hard and win 2-3 games. But, in the end, Miami is the more talented team and has some excellent team chemistry as well. I will put my money on Miami to win the series in 6 games.