All About the New College Football Playoff
June 30, 2014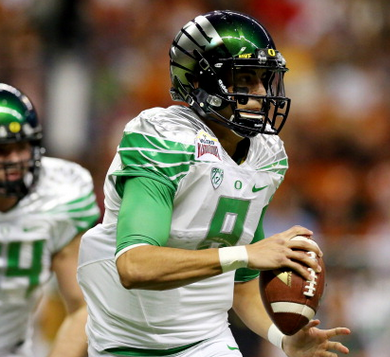 In case you've been living under a rock, the 2014 college football season will be a bit different than in years past. If you've been begging the NCAA to form a playoff system, now you're in luck. The bowls are still around. Those aren't going anywhere. After all, how can we go on with our lives if the Buffalo Wild Wings Bowl was no longer around?
But now there's a little more to the postseason format. Each year, 3 playoff games will be played involving 4 teams. The first round will be played at 2 bowl games, with the championship game the following week between the 2 winners. For us sports bettors, this means we must take an extra postseason game into consideration when placing futures bets. For example, a team such as Oregon that always seems to lay an egg once every year just might be able to get away with it now, therefore, making them a better championship pick.
How the College Football Playoff Works
The NCAA spent big bucks hiring a marketing firm to help them create a catchy name for their new playoff system. This high-priced firm of obvious geniuses came up with the name, "College Football Playoff". Brilliant, right? I would have done this for $20. All kidding aside, this system is great for college football.
On January 1st, 2 teams will face off in the Rose Bowl and 2 teams will face off in the Sugar Bowl. These teams will be selected by a committee that deems them the nation's 4 best teams. The winner of these games will meet the following week at Cowboys Stadium in Arlington, Texas. That winner will be crowned national champions and the first ever College Football Playoff champs.
The Rose and Sugar Bowls get the first round games this year, but these will be rotated between 6 difference bowl games (also the Peach, Cotton, Fiesta and Orange bowls) over the years.
About the Committee
The College Football Playoff selection committee is similar to what we have during college basketball season and the NCAA Tournament. There is a panel of 13 members that will decide the 4 teams that make the playoffs. These members will serve on the committee for 3 years. After that, new committee members will be selected.
The committee is made up of current Athletic Directors, sports writers, former coaches, former players and even a former US Secretary of State (Condoleezza Rice). Some of the names you might recognize include Barry Alvarez, Tyrone Willingham, Archie Manning and Tom Osborne.
The members on the committee are all knowledgeable about college football and considered to have high integrity. Of course, that is a matter of opinion. Some might argue Tom Osborne isn't of the highest character considering he allowed so many criminals to play for his Nebraska Cornhuskers. But that's another topic for another day. The NCAA wanted to create a diverse committee and keep it as unbiased as possible. But, let's be honest here – everyone is biased. The top name programs will still have an unfair advantage because that's what sells.