Packers-Seahawks Week 1 NFL Opener Could Be Playoff Preview
July 3, 2014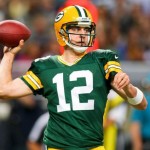 The marquee matchup of the opening week of the 2014 season is the first game on the schedule: the annual Kickoff Game on Thursday, Sept. 4, when the Super Bowl champion Seattle Seahawks host the Green Bay Packers. The NFL has scheduled a weeknight Kickoff Game since 2002 and the reigning Super Bowl champion has hosted it every year since 2004 other than last season when Baltimore had to play on the road because of a scheduling conflict with baseball's Orioles.
The Seahawks have opened as 5.5-point WagerWeb favorites against the Packers with a total of 45. If will be an electric night at CenturyLink Field in Seattle as the team raises its first Super Bowl banner. The 12th Man fans will be rather boisterous as if they needed any more reason to be the NFL's loudest fan base. The Seahawks were 7-1 at home last regular season, covering five of those on the WagerWeb spread.
In fact, the Seahawks have just one home game since the start of the 2012 season, which is when Russell Wilson began his career at quarterback. That loss was 17-10 in Week 16 to Arizona last season. The Seahawks then beat New Orleans and San Francisco in the playoffs in Seattle before routing Denver 43-8 in the Super Bowl as slight WagerWeb betting underdogs.
Green Bay finished last season 8-7-1 (7-9 ATS at WagerWeb) and won the NFC Central Division on the final Sunday of the regular season. Quarterback Aaron Rodgers hadn't played since Week 9 due to a broken collarbone but threw the game-winning 48-yard touchdown pass in Chicago in the final minute to give the Packers the division title over the Bears. Green Bay lost the next week at home in the wild-card round to the 49ers on a last-second field goal. Overall, the Packers were 4-4 on the road last season, with the same mark ATS.
These teams last played Week 3 of the 2012 season in Seattle and the Seahawks won 14-12 on a Hail Mary pass at the gun by Wilson to Golden Tate. The play was incorrectly ruled a catch by the replacement officials with the regular refs locked out. The NFL made a deal with the normal officials after that obvious mistake.
Seattle is the +275 WagerWeb favorite to win the NFC title, with Green Bay at +500.