Week 1 College Football Predictions Against the Spread
July 6, 2014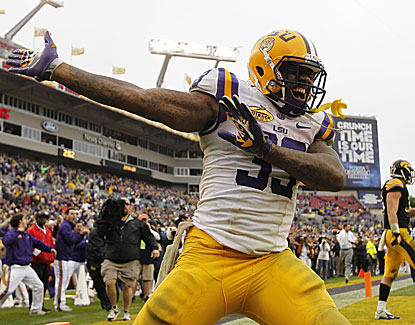 The 2014 College Football season is only a couple of months away, so let's start talking football! Week 1 lines are set and, although they will change a bit, let's take a look at the best bets for Week 1.
(home team in CAPS)
Penn State –3.5 over Central Florida
This game is being played, for some ridiculous reason, in Dublin. No, not Dublin, Ohio…Dublin, Ireland. I'm sure tons of people in Ireland are huge fans of Penn State and Central Florida. Anyway, I like Penn State in this one because Central Florida lost too many key players from a year ago. Penn State is more proven at the quarterback position.
Ohio State –17.5 over NAVY
The Buckeyes are actually playing a "road" non-conference game. This is something new! Ohio State lost some key players, but there's no way Navy is going to be able to defend Braxton Miller. Buckeyes roll in this one. Backups will be in by the start of the 4th quarter.
LSU –3 over Wisconsin
Unfortunately, there aren't many epic non-conference games anymore. This is one of the few. LSU and Wisconsin are 2 great programs. The game is being played in Houston, Texas and both teams should have a strong following in attendance. LSU's athleticism will prove too much in the end.
Oklahoma State +17 over Florida State
The defending national champs take on Oklahoma State in what should be an exciting opening game at Cowboys Stadium in Arlington. Florida State is the favorite to win the national title and, therefore, a big favorite here. But Mike Gundy always has his team ready for big games. I don't expect Oklahoma State to win, but I do expect them to keep it somewhat close.
West Virginia +23.5 over ALABAMA
Alabama is going to win this game. I can't imagine any scenario where West Virginia rolls into Tuscaloosa and gets a victory. But I do think they'll keep it somewhat close. Alabama is breaking in a new quarterback, so there could be a couple of crucial turnovers made, keeping the game closer than the pundits expect.
UNLV +25.5 over ARIZONA
Arizona defeated UNLV a season ago in Las Vegas. Now the series shifts to Tucson. UNLV is on the rise, coming off their first bowl appearance in many years. Arizona is a talented squad, but they played down to the competition in many games last year. I think UNLV can keep this one close, but probably won't win.
SOUTH CAROLINA –9 over Texas A&M
For the past 2 seasons, Johnny Manziel has carried Texas A&M. He's gone now and so are the Aggies hopes. South Carolina has 10-win potential. The Aggies weak rush defense will have problems containing running back Mike Davis. I expect South Carolina, at home, to pummel Texas A&M.
OLE MISS –8.5 over Boise State
The Boise State Broncos had a great run, but now the program is coming back to reality. Ole Miss, on the other hand, is one the rise thanks to a couple of big recruiting classes. Ole Miss will cruise, at home, and send Boise State back to Idaho questioning their manhood.
Deposit now and get ready for college football action that starts next month.