Week 1 NFL Predictions Against the Spread
July 25, 2014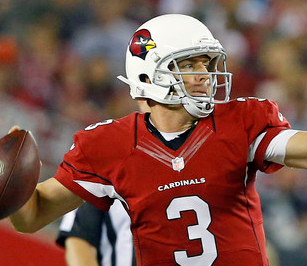 We are less than 75 days away from kickoff and if you aren't excited for the start of the NFL season, you're just plain lame. There isn't a better sport to bet on than the NFL. So, even though we have more than 2 months until the first game, let's take an early peak at the Week 1 games and some predictions:
(home team in CAPS)
Green Bay +5.5 over SEATTLE
Aaron Rodgers is healthy now. This is Seattle's first game as defending champs. I give a slight edge considering the spread to Green Bay, even on the road, for the simple reason we don't know how well Seattle will perform as the hunted.
New Orleans +1.5 over ATLANTA
The favorites cleaned house last year, but my first two games I'm taking the road underdogs. I'm not sold on Atlanta being "back" yet. They're going to have to prove it to me. New Orleans, on the other hand, has a potent offense.
ST. LOUIS –5 over Minnesota
So much for taking the road dogs! St. Louis is a team that could surprise this year. Their opponent – Minnesota – just isn't any good. I like Sam Bradford and the St. Louis Rams by at least a touchdown here.
PITTSBURGH –5 over Cleveland
Two hated rivals coming off mediocre seasons. Cleveland is in transition and it will be interesting to see if Johnny Manziel actually does begin the season as Brian Hoyer's backup. My guess is Manziel starts, but it won't matter. Steelers by 10.
Jacksonville +11 over PHILADELPHIA
Jacksonville isn't going to win this game in Philadelphia. But I would be surprised if they don't keep it close. It's the first game, and I hate taking favorites with double-digit point spreads the first week. Jacksonville improved late in the season last year. Philly wins but it will be close.
NY JETS –4.5 over Oakland
The New York Jets aren't great, but Oakland is worse. For the Jets, everything comes down to the play of quarterback Geno Smith. If he doesn't make significant improvements, they can forget about the playoffs. The Raiders, on the other hand, don't have playoff potential regardless.
BALTIMORE –2.5 over Cincinnati
This is one of the most interesting games of Week 1. Baltimore, the 2012 Super Bowl champs, fell apart last year. But we do know they are capable. I think they'll be hungry this year. Joe Flacco gets back to form, but we'll have to wait and see if Ray Rice can stay out of jail before betting big on this team.
CHICAGO –6.5 over Buffalo
The Buffalo Bills are a few bad seasons away from getting shipped to another city. There's really no hope for this team. The Bears should have a potent offense, led by Matt Forte's dual-threat skills. Jay Cutler makes mistakes, but he'll get away with them against a mediocre team like Buffalo.
KANSAS CITY –5.5 over Tennessee
The Chiefs have nearly everything in place to make a playoff run again. Jamal Charles should have a big day in this one. Tennessee is going to struggle offensively, so look for the Chiefs stud pass rushers (Justin Huston and Tamba Hali) to cause problems for the Titans offensive line.
New England –3.5 over MIAMI
The Patriots, fresh off a disappointing AFC Championship Game defeat to the Broncos, still have 1 or 2 good years left in them. Tom Brady can still make plays. Miami doesn't have many players that can.
Carolina –2.5 over TAMPA BAY
Cam Newton is going to have a big season. After a rocky second year, Newton regrouped well last year. This will be his breakout season. Carolina should cruise, on the road, in this one.
San Francisco –3.5 over DALLAS
I'm taking another road favorite here. I just think Dallas is too soft defensively and Colin Kaepernick will exploit that. Dallas has the better overall offense, but San Francisco is far superior defensively.
DENVER –7 over Indianapolis
Peyton Manning faces his former team for the second time, this time in Denver. Manning will have a big game. The Colts don't have the weapons they had when Manning was slinging the football around in Indy.
NY Giants +4 over DETROIT
Both of these teams were major disappointments a season ago. This is a big game for both teams. They need a fresh start. I think Eli Manning gets back to form this year and the Giants cruise to a victory in D-Town.
San Diego +3 over ARIZONA
I'm taking one final road underdog, and I think the Chargers win straight-up. Carson Palmer just doesn't make me very confident in Arizona. I know they had a surprising year last year, but I think it was a fluke. The Chargers still have an All-Pro caliber quarterback (Phillip Rivers).