Big Ten Conference Football Predictions From a Gambler's Perspective
August 5, 2014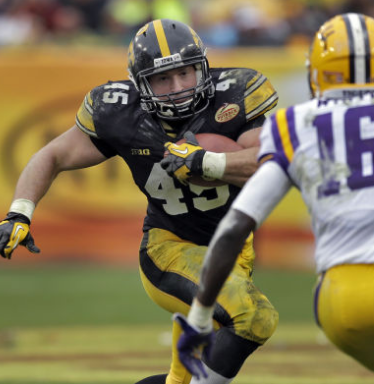 With Big Ten Conference media day completed, it's time to start looking ahead to the season. The Big Ten has a reputation for being unathletic, but that doesn't matter for this preview. I am specifically previewing the conference from a bettor's perspective. With that in mind, let's take a glance at the current Vegas odds to win the conference:
Ohio State                         10/11
Michigan State                   4/1
Wisconsin                          9/2
Nebraska                          11/2
Michigan                           9/1
Iowa                                14/1
Northwestern                    40/1
Minnesota                         50/1
Maryland                          100/1
Indiana                             100/1
Illinois                              100/1
Rutgers                            200/1
Purdue                             250/1
*Penn State                      Not Eligible
The Bad Picks
Let's get the bad out of the way first. The following teams are bad picks to win; Purdue, Rutgers, Illinois, Indiana, Maryland, Minnesota, Northwestern. Sure, it's tempting to throw $100 down on these teams because of the potential payout, but these teams simply don't have a prayer in hell to win the conference. It's free money for your sportsbook if you bet on these teams.
The Not Great Picks
Nebraska, Ohio State and Wisconsin make my "not great picks" list for different reasons. Let's start with the conference favorite – Ohio State. The Buckeyes won 24 games in a row before falling to Michigan State in the Big Ten Championship Game a season ago. They are the heavy favorites, but at 10/11, I'm not seeing any value here. Ohio State is no lock to win this conference. In fact, they aren't even my pick to win the league. Ohio State has depth issues at running back with the departure of Carlos Hyde, and defensive issues. They will rely heavily on quarterback Braxton Miller, but he's injury prone.
Wisconsin is overrated. They've been very good for the past decade but they'll be lucky to finish 9-3. There's no way the Badgers, even with a weak overall schedule, make it through the regular season in the lead and Big Ten Championship Game. Nebraska has far too many question marks offensively with the departure of Taylor Martinez, and they aren't that great defensively. Nebraska and Wisconsin would be solid picks if the odds were more favorable.
The Best Picks
Iowa and Michigan State make my "best picks" list. Iowa isn't my pick to win the conference, but I think they have a decent shot to content given their weak schedule. At 10/1, there is some good value betting on the Hawkeyes. Iowa won 8 games last season. They were a surprise team and return nearly everyone other than tight end C.J. Fiedorowicz on offense. The Hawkeyes are experienced at quarterback, offensive line, running back, wide receiver and defensive line. They play arguably the weakest schedule of any major conference team in the country. They will be favored in at least 10 games. If you want a value pick, this is your team.
But my #1 pick is the Michigan State Spartans. Mark Dantonio is one hell of a football coach. Michigan State is the defending champs and I think they'll be every bit as good as they were last year, a season in which they won the Rose Bowl. Quarterback Connor Shaw is primed to have a big year. Michigan State suffered some key defensive losses, but they'll make up for it with a more potent offensive attack. Shaw won't have to do it all by himself. He has one of the top backs in the country to give the football to – Jeremy Langford. Michigan State is going to win the Big Ten. At 4/1, I like this pick far more than Ohio State.