College Football Week 1 Predictions ATS
August 18, 2014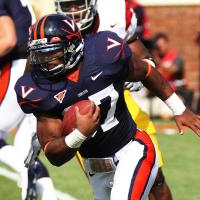 We're just a couple of weeks away from the start of another exciting College Football season. Let's take a look at some of the best games in week 1, and how I predict the games will turn out ATS:
Texas A&M +10 ½ at South Carolina
The post-Johnny Manziel era begins in College Station. He won't be easy to replace especially considering the Aggies have a mediocre defense. South Carolina will win this game because they have a better defense. But they have question marks at quarterback, which will help keep Texas A&M in the game late.
Arizona –24 versus UNLV
This isn't so much a good game as it is a confident pick on my part. Arizona has performed fairly well under Rich Rodriguez in his first 2 seasons. But now I expect the Wildcats' offense to take the next step. UNLV, a bowl team a year ago, simply doesn't have the talent to compete with a potent offense. Arizona wins by 30+.
Penn State –1 at Central Florida
Central Florida has a great team last year, but they are going to miss quarterback Blake Bortles. Penn State, still on probation, is a solid Big Ten team led by sophomore quarterback Christian Hackenberg and a solid defense. UCF will have problems stopping Hackenberg.
Ohio State –19 at Navy
I'm not sold on Urban Meyer's 'new' defense. I think the defense will keep Ohio State out of national championship contention. But I am sold on its offense running the score up behind Braxton Miller, against an inferior Navy squad. The Buckeyes are simply too talented and Meyer isn't afraid to run it up, which means the Buckeyes could tack on a meaningless touchdown late to help cover the spread.
Virginia +21 ½ versus UCLA
UCLA is going to have a fantastic season. Jim Mora Jr. is doing an excellent job turning that program around. And I love watching quarterback Brett Hundley play. However, this is a road game clear across the country against a decent ACC team in week 1. UCLA wins, but is sloppy and doesn't cover the spread.
Appalachian State +35 at Michigan
We all remember the 2007 upset of Michigan by Appalachian State. Week 1 will feature the rematch of this legendary upset. There's no way Appalachian State pulls off the upset twice. But I don't expect Michigan's best performance, and I don't think they're all that great. Michigan will come out playing with too much emotion.
West Virginia +27 versus Alabama
Alabama is going to win this game. I have no doubt about that. But that is a lot of points for a road team that is breaking in a new quarterback, especially considering West Virginia is a decent team. This will be a 10-17 point victory for the Crimson Tide.
USC –23 versus Fresno State
The Steve Sarkisian era in Los Angeles begins with a game against an in-state foe – Fresno State. USC has been a disappointment the last couple of seasons, but that is about to change. USC has a potent offensive attack and will dominate Fresno State from the start.
Florida State –17.5 at Oklahoma State
If you're wondering why any team could possibly be such a large road favorite against a solid program like Oklahoma State, there's a good reason. It's going to be a rebuilding year for OSU and the Seminoles appear to be unstoppable. Jameis Winston and company will come into Stillwater and will make a statement that they are still the team to beat.
Wisconsin +4.5 versus LSU
This game is played on a neutral field. LSU is a highly overrated team this year. Their preseason ranking is due to reputation. LSU has many holes on both sides of the ball. Wisconsin should be able to run the football effectively and just might win he game outright.
Bet these picks now at our 2014 number 1 sportsbook Youwager.eu