Top 2014 Fantasy Football Running Backs
August 21, 2014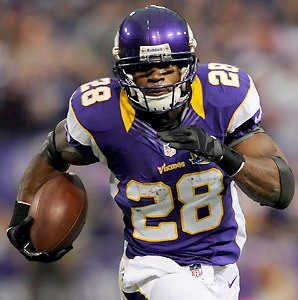 Fantasy football is one of my favorite forms of sports betting. The most exciting part about fantasy football is the draft itself. To prepare for a draft, you need to have a list of the top fantasy players. For this article, I'm going to focus on the top 2014 fantasy football running backs:
1.LeSean McCoy (Philadelphia)
There's really no argument here. "Shady" is the best overall running back in the NFL. He provides fantasy players a good mix of rushing yards, receiving yards and touchdowns. McCoy is going to thrive in Chip Kelly's offense now that he is entering his second season with the former Oregon head coach. McCoy has great speed, a trait necessary for the "Blur" offensive scheme Kelly runs.
2.Adrian Peterson (Minnesota)
I go back and forth between #2 and #3 because Jamaal Charles is a better pass catcher than Peterson. But I worry about his ability to stay healthy, even more than I do Adrian Peterson's. Therefore, I'm putting AD as #2 RB. Peterson will lead the league in rushing and will have plenty of opportunities to score TD's even with Minnesota's quarterback question marks.
3.Jamaal Charles (Kansas City)
Jamaal Charles is an explosive, game-changing running back. He is a fantasy owner's dream running back…when healthy. He's a risk if drafted in the first round, but the reward will be big if he can stay healthy for 16 games. Charles can get you 1,500 rushing yards, 600 receiving yards and 15+ touchdowns. But, again, it all depends on how well his legs hold up.
4.Matt Forte (Chicago)
Matt Forte is similar to LeSean McCoy and Jamaal Charles except he's not quite as flashy of a runner. But he is an exceptional receiver and a solid rusher. Forte will get you plenty of touchdowns and yards. He's worth a first round pick and is one of the best running backs in the NFL. The Bears offense goes relies just as heavily on Forte as it does Jay Cutler.
5.Eddie Lacy (Green Bay)
Eddie Lacy showed flashes of greatness in his rookie season last year. Now is his time to shine and take some of the pressure off Aaron Rodgers. With Rodgers coming off a season in which he missed most of the second-half with injury, expect the Packers to give Lacy more carries. He has 1,500-yard potential. Lacy is one of those backs that could be a huge steal in a fantasy draft.
6.Marshawn Lynch (Seattle)
Russell Wilson gets much of the credit for the Seattle offense, but it's really Marshawn Lynch that makes it so successful. Lynch is an excellent runner that can get you 100-yards and a pair of touchdowns on any given Sunday. If you have a late pick, you won't be "stuck" with him.
The Potential Steal of Your Fantasy Draft – Le'Veon Bell
If the players above are off the board by the time your pick comes up, you're probably looking for a potential steal. In my opinion, the rookie with the best chance to have a breakout season is Le'Veon Bell, the former Michigan State stud. Bell will get plenty of carries in Pittsburgh. He's a workhorse that is a beast in the red zone. Bell could get you 15+ touchdowns this year because he will be counted on in goal line situations. If you're looking for a steal, this is your guy.
Bet on football now at Youwager.eu – SBA's #1 sportsbook for Fall 2014