Analyzing the Top 3 Favorites to Win the Super Bowl
August 22, 2014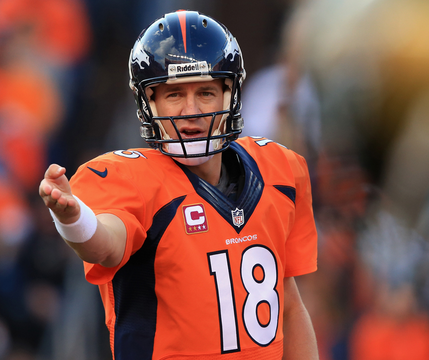 In just a couple of short (hopefully) weeks, the 2014 NFL season will kick off. Seattle will attempt to do what no team has done in more than a decade – repeat as champs. Denver will attempt to bounce back from their embarrassing Super Bowl performance. And San Francisco will attempt to shut Richard Sherman up. These are your 3 favorites – according to Vegas – to win the Super Bowl. Let's take a look at these teams so you can decide if you want to bet on them to win.
Seattle Seahawks (6/1)
Let's start with the defending champs. Seattle was a bit of a surprise last year. Most expected San Francisco to come out of the NFC. But the Seahawks proved they were the best team from start to finish. Seattle's defense, led by the obnoxious Richard Sherman, is one of the best in NFL history. They will be just as good defensively this year.
Offensively, Seattle is efficient. Russell Wilson isn't a flashy quarterback and never will be. But he gets the job done and plays well within the system. Seattle's offensive strength is not turning the ball over. They also have a flashy running back – Marshawn Lynch. The former Cal back has plenty of explosiveness. Wilson gets a lot of the credit when Seattle wins, but Lynch is every bit as important. Bet Seahawks now at Youwager.eu
Denver Broncos (6/1)
Denver was the best team in the NFL last year, right up until they laid an egg against the Seahawks. Peyton Manning gets most of the blame from ignorant fans, but that was a team meltdown. Denver simply wasn't prepared on offense, defense or special teams. And, quite frankly, Seattle was a better team. Denver, as long as Manning remains healthy, will cruise through the regular season to a top seed. They will likely have to get through New England again to get to the Super Bowl, which shouldn't be a problem.
But can the Broncos get over the hump and defeat the NFC's top team? They will likely face Seattle, San Francisco or Green Bay if they get that far. All 3 of those teams have more overall talent than Denver. The problem with the Broncos is they rely so heavily on Manning. If he has an off game, they can't win, not even against a weak team. Monte Ball is a talented running back, but the Broncos don't have the defense. That doesn't mean they won't win the Super Bowl. But at 6/1 odds, I'm not sure that's a great value bet. Bet Broncos now at Youwager.eu
San Francisco 49ers (8/1)
There really are only 4 teams I think have a shot to win the Super Bowl this year. The 3 teams on this list and Green Bay. San Francisco has been close the last 2 years. Jim Harbaugh has proven that college coaches can win in the NFL, as did Pete Carroll. The 49ers were a game away from the Super Bowl last year and a goal line situation away from winning the Super Bowl the previous year.
There's really no secret about what needs to happen for the 49ers to win the Super Bowl this year. Quarterback Colin Kaepernick needs to play at the level we all expected going into 2013. He's a dual-threat quarterback that is really San Francisco's only big-play threat. Frank Gore is a solid running back, but he isn't a game breaking back. Defensively, the 49ers are stout. I like the 49ers at 8/1 better than Denver at 6/1 because they will be in good shape to win the Super Bowl if they get by Seattle, which can happen. Bet 49ers now at Youwager.eu