St. Louis Rams Odds Change Drastcially After QB Bradford Out for Season
August 25, 2014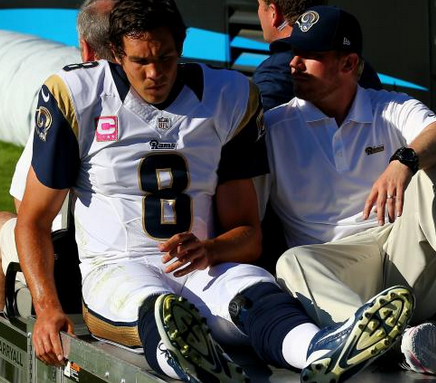 If you are a fan of NFL football you probably already have heard Sam Bradford, the oft injured QB for the St. Louis Rams, has had yet another season ending injury. This is the second one in less than a year. Last year on October 20, 2013 against the Panthers he suffered the same fate. Both season ending injuries are of the ACL variety.
The odds for the Rams have gone from 40-1 to win the Super Bowl down to 75-1.  They have now bounced back some among rumors of a trade with Philadelphia for Mark Sanchez and are settling in at 66-1.
Rams fans may be worried but they know better than any team's fans that this does not mean they are to be counted out. The 1999 season saw the season ending injury of Trent Green and the promotion of then back-up nobody Kurt Warner. Warner is now in the Hall of Fame after guiding the Rams to a Super Bowl win that same year and making it to the Super bowl the following year.
With all of that said, I don't beliebe the Rams will be in the Super Bowl. So, a bet on them is probably a waste of funds. I think the Rams odds the Kurt Warner year were 100-1. That would be a little more tempting than 66-1
Bet Super Bowl Odds at our #1 Sportsbook for 2014