Analyzing the Top 3 Favorites to Win the 2014 National Title
August 27, 2014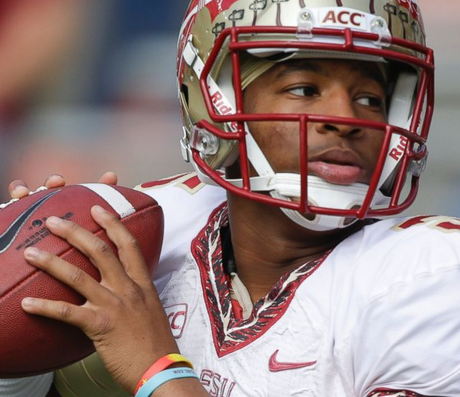 We are a week away from the start of the 2014 College Football season. That means it's time to get logged onto our online sportsbooks (YouWager.eu is our top ranked sportsbook for the 2014 football season, FYI) and make a deposit. Before the games get started, you can place a wager on the team you think is going to win the national title. It could be your favorite team, or it could be one of the 3 favorites; Florida State (18/5), Alabama (6/1) and Oregon (8/1), as of 8/26/2014.
Don't overlook the schedules
The easiest way to earning a spot in the brand new College Football Playoff is by playing a weak schedule. So before you throw your hard earned money on one of the favorites, you need to factor in schedules. Let's start with the defending champs – Florida State. The Seminoles have the easiest schedule of the favorites because they play in a weak ACC Conference.
They face Oklahoma State, Notre Dame and Florida in the non-conference. That would be tough in most years, but not this year. Oklahoma State will have a down year and Florida is not good. Notre Dame, however, is decent. The toughest conference game FSU faces is Clemson. They shouldn't have a problem getting to the playoffs. Oregon has a brutal schedule because the Pac-12 is going to be rough and they also face Michigan State in the non-conference. They will have to face Washington, Stanford, UCLA and another tough team if they get to the Pac-12 title game. Alabama also has a tough schedule, facing Auburn, LSU and Ole Miss.
Breaking down the teams
Schedules matter, but not as much as the talent level and coaching of the teams. All 3 of these teams are talented and well coached. But no team has a better coaching staff than Alabama. The Crimson Tide has won 3 of the last 5 national titles and was just a fluke play away from possibly making it to another championship game last year. As long as Nick Saban is at Alabama, you can feel confident with your bets.
However, Alabama does have a major question mark at quarterback. They play a tough schedule and have no experience at this key position. If new offensive coordinator Lane Kiffin can find a way to get steady QB play, Alabama could be the team to beat.
Oregon is always a tough team to beat. They have an explosive offense led by senior QB Marcus Mariota. We know Oregon can score points. But they have struggled big time against Stanford's defense the last couple of years. If Oregon doesn't toughen up a bit, they'll continue being close, but won't get over the hump. And that leaves us with the defending national champs…
Florida State brings back the bulk of the team that won it all a season ago. That includes Heisman Trophy winner Jameis Winston. If Florida State is going to repeat, they'll need a repeat out of their quarterback. He had a banner freshman season, but can he do it a second time around, knowing teams are now gunning for him? I think he can. I believe Jameis Winston is one of the most talented quarterbacks in College Football history. Florida State is well coaches, deep, athletic, talented, and they face a fairly mild schedule. The stars are aligned well for a back-to-back run.