Top Fantasy Football Wide Receivers for 2014
September 3, 2014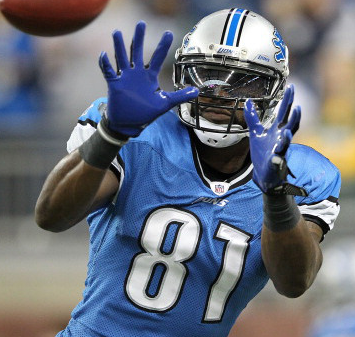 It's that time of year again. The best time of year. The time where we draft our Fantasy football rosters. Part of your roster will include wide receivers. We've already covered the quarterbacks and running backs. Now it's time to go over our list of top wide receivers to select in your upcoming Fantasy football draft.
1.Calvin Johnson (Detroit)
Is there really any doubt as to which wide receiver is going to bring you the most points? Calvin Johnson is one of the best wide receivers, ever. He's a Fantasy owner's dream and one of the most dynamic playmakers the NFL has ever seen. Johnson is an absolute stud that will get you 100 yards and a touchdown or two pretty much every week. What makes Megatron so valuable to a Fantasy team is he is a mismatch for every cornerback. That means he'll be unstoppable almost every game.
2.Demaryius Thomas (Denver)
Demaryius Thomas probably isn't a top-2 wide receiver in terms of talent. But he's the best receiver on the team that has the most explosive passing game thanks to Peyton Manning. Denver again will be pass-happy, which means Thomas will get plenty of opportunities to put up big numbers. Thomas is athletic and has good hands. Expect another big year out of him.
3.Dez Bryant (Dallas)
Dez Bryant is one of those wide receivers you only sign because of his skills and not because he's a team player or a good guy. Bryant, to put things nicely, isn't a good guy. But he will get you 100 yards in most weeks. He's tough to defend because of his length and athleticism. He makes athletic catches and is very consistent.
4.Jordy Nelson (Green Bay)
This one may come as a surprise to you. Jordy Nelson didn't put up big-time numbers last year but that was due to Aaron Rodgers missing a big chunk of the season. When Rodgers was healthy, Nelson was a consistent threat. He finished up the regular season with 161 yards on 10 catches, which just so happened to be Rodgers' first game back. Rodgers is healthy this year and Nelson will have a big year.
5.A.J. Green (Cincinnati)
A.J. Green had a great season last year but his numbers dropped off the second half of the year. The biggest problem I have with taking A.J. Green too high in the draft is I'm not sold on Andy Dalton at quarterback. I think he's a tad overrated by Cincinnati. Having an inconsistent QB will hurt Green's ability to become a big-time Fantasy receiver.
Best Places to Play Fantasy Football
There are two types of Fantasy Football.  The first one is what you're probably most familiar with and that is traditional Fantasy football. You draft a team to last the entire season – making weekly changes – and win based on how well your team performs throughout the season. And then there is daily fantasy football, which is based on games played each week.
Many online sportsbooks also offer Fantasy football challenges, so definitely check those out. As far as daily Fantasy football goes, I would take a look at a site that is about to launch called Breakout Gaming (cryptocurrency site). They're going to have some great games there for daily Fantasy sports fans. For the traditional Fantasy sports fans, you can't go wrong with ESPN Fantasy Football. Check out your online sportsbook as well to see what Fantasy games they offer.