Sports Betting Legal in New Jersey
September 10, 2014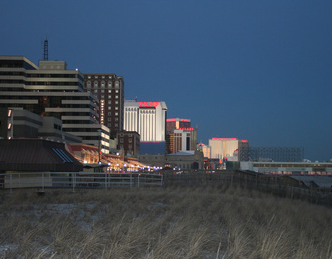 On Monday, New Jersey became the second state in the United States to legalize sports betting. The state was already the second largest destination for casino gambling.  The city of Atlantic City legalized casino betting decades ago. But the lest several years the city had been hit hard with steadily decreasing revenue from the gambling sector.
The reasons are many: There is the economic rebound from the crash of 2008. There is the fact that Las Vegas offers more bang for your buck. And there is the fact that it is New Jersey, cold half the year and for those who have been to Atlantic City if you go two blocks off the strip, you know it is pretty ghetto.
City and state leaders were not going to sit by and watch the city and industry crumble. Several years ago they started toying with the idea of legalizing sports betting. And now that thought has become a reality.
New Jersey Governor Chris Christie's office released this statement: "Based on the arguments of the sports leagues and the United States Department of Justice, the 3rd Circuit has already ruled that New Jersey can carry out sports wagering as described in today's statewide directive.  The motion simply would clarify and formalize that authority and give clear guidance to casinos and racetracks waiting to open a sports pool in New Jersey."
Oceanport track has been working over the last year to prepare a room for its sportsbook and is working with a sports-betting firm, William Hill. William Hill is an A Rated Sportsbook at SportsbookAdvisor.com
Sports betting is also available in "international waters". There are boats that leave from Cape Canaveral, Florida that once they are a certain distance out, you can place your bets. But only New Jersey and Las Vegas will have full service sportsbooks on land. The question is how long until the other casino cities follow suit.