NFL Week 4 Picks Against the Spread
September 28, 2014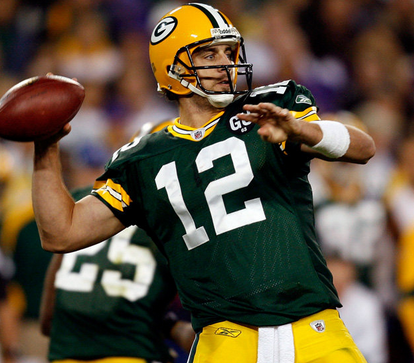 Ready for another big week at the sportsbook? So am I! There are a host of great NFL games this weekend. And, like any other week, there are some games that only matter to the gamblers. Let's take a look at the games I have confidence in:
Green Bay (+1.5) At Chicago
This is a tough game to predict but I really think we haven't yet seen the Packers' best. Green Bay has been a disappointment, but what better opportunity to turn the season around than going into the rivals home field and coming out with a huge win? Aaron Rodgers is poised to explode. It's only a matter of time.  Pick: Green Bay 28 Chicago 24
Indianapolis (-6) Versus Tennessee
The Colts haven't been great this year. But Tennessee is falling apart. I'm not really sure how they pulled off such an impressive performance in Week 1 at Kansas City. But I think it's likely Kansas City simply played a horrible game. The Titans have since come back to reality, and I expect Indianapolis to slap them with another dose of reality on Sunday.  Pick: Indianapolis 31 Tennessee 17
San Francisco (-3.5) Versus Philadelphia
San Francisco has underachieved this year. Philadelphia is on the rise. But I do expect San Francisco to come through this week. They have more talent than Philadelphia and I absolutely hate betting on teams traveling coast to coast to play a tough road game. Colin Kaepernick will have a big game and lead the 49ers to a big victory.  Pick: San Francisco 27 Philadelphia 20
Pittsburgh (-8) Versus Tampa Bay
The Tampa Bay Buccaneers are not a good football team. And they're getting worse. Pittsburgh had a huge win last week against Carolina and appear to be headed in the right direction. Tampa Bay has some serious issues at quarterback. That's not a good recipe for success in a hostile road environment. Pittsburgh will cruise to victory.  Pick: Pittsburgh 34 Tampa Bay 13
San Diego (-10.5) Versus Jacksonville
This is another case of me loving a home favorite against a team traveling coast to coast. I'm even more confident in this pick given the fact that San Diego is a far superior team to Jacksonville. The Jaguars are better than last year and San Diego is basically the same. But I do expect a big game out of Phillip Rivers and a solid defensive performance by San Diego.  Pick: San Diego 28 Jacksonville 13
Atlanta (-2) At Minnesota
Teddy Bridgewater gets the start for the injured Matt Cassel for Minnesota. I'm not sure if that's a good or bad thing. Cassel is a mediocre NFL quarterback but we don't know yet how effective Bridgewater will be. We know a lot more about Atlanta and its quarterback (Matt Ryan). I have more confidence in Ryan and Atlanta's potent offense than I do Minnesota, even on the road.  Pick: Atlanta 28 Minnesota 17
Kansas City (+3.5) Versus New England
The Patriots are not the same team we've seen the past dozen years or so. New England doesn't have much explosiveness on offense. They do have a quality defense. Arrowhead Stadium will be rocking on Monday Night. This is a huge game for Kansas City's playoff hopes. My prediction is that Alex Smith comes through with a big game and the Chiefs defense shuts down Tom Brady and the Patriots.  Pick: Kansas City 27 New England 17
Sign Up at TopBet.eu
Here are the details:
Bonus Code: NFL100
100% Match Bonus
$250 Maximum
Minimum Deposit of $50
5X Sportsbook Rollover, 25X Casino Rollover • Expires Tuesday, September 30th at 11:59 PM
***Players will have to enter NFL100 to get 100% signup bonus.