NFL Week 4 Recap: Surprises and Disappointments
October 1, 2014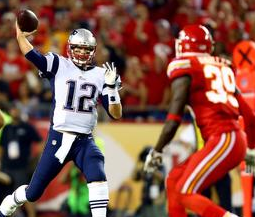 NFL Week 4 was highly entertaining. There were some exciting games, blowouts, and surprises. Some of the outcomes will have significant impacts on the post-season. Green Bay got a crucial win over hated rival Chicago, San Francisco came up big against Chip Kelly's Philadelphia Eagles, and Kansas City made a statement on Monday Night Football. Week 4 is in the books. Let's look back at the weekend that was:
Blowout Games on Low Spreads
7 games with single-digit spreads ended in 21+ point blowouts. In 3 of those games, the underdog won the game. The New York Giants set the tone on Thursday night by defeating Washington 45-14. New York was a 3-point underdog and absolutely destroyed the rival Redskins. Perhaps that was karma for Daniel Snyder refusing to rename the team to something a bit less racist.
Indianapolis' 41-17 victory over Tennessee wasn't much of a surprise. The Colts were a 7.5-point favorite at home. Tennessee had an impressive victory in Week 1 against Kansas City, but has come back to reality ever since. Speaking of Kansas City, it wasn't a surprise that Kansas City defeated New England on Monday night. It was a surprise they won so easily. Kansas City was a 3-point underdog and won the game 41-14. The game was over by the end of the 3rd quarter.
Minnesota defeated Atlanta by 13 – which was a bit surprising. The Vikings, playing without Adrian Peterson and Matt Cassel, took control of this game early and made gamblers that took Atlanta to cover the 5 points look silly. New Orleans showed the gamblers just how little confidence they should have in the Saints on the road. New Orleans was pitiful at Dallas, losing 38-17 despite entering the game as a 3-point favorite.
Other Big Wins in Week 4
San Francisco was a struggling football team entering Week 4. With Philadelphia – one of the best teams in the NFL – coming to town, it was crucial for San Francisco to come up big. They did. It wasn't a dominant performance, but it was enough to get the job done. San Francisco, with a loss, would have needed to scramble the rest of the way just to make the playoffs. Now, with this win, they're back in contention.
The 49ers were a 3.5-point favorite and barely covered with a 26-21 victory. But, as you know, it doesn't matter how many points they cover by. All that matters is that they did cover. Another 3.5-point favorite that came up big was Baltimore. The Ravens are attempting to get back to championship form after a disappointing 2013 campaign. They made a strong case for being a legit contender after drilling Carolina 38-10.
Perhaps the most important win came in Chicago with the Green Bay Packers defeating the Bears 38-17. Jay Cutler kept the Bears close in the first half and then collapsed in the second half, causing the Packers to run away with the game early in the second half. Green Bay was a 2-point favorite. The Packers desperately needed this victory. With their season on the brink, Aaron Rodgers proved yet again that he's an elite quarterback. Jay Cutler proved yet again that he probably never will be.