Could 2014-15 Philadelphia 76ers Be Worst NBA Team In History?
October 22, 2014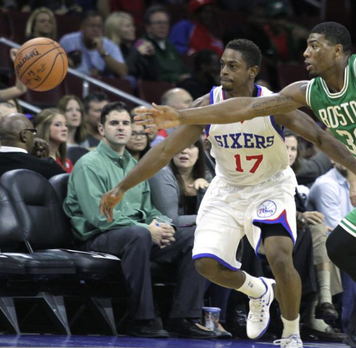 The worst record in NBA history belongs to the 1972-73 Philadelphia 76ers as they finished 9-73, a horrific .110 winning percentage. No other team in a full 82-game season has ever been held to single-digit wins. However, could the 2014-15 76ers threaten that 73-loss record? It's possible. Philadelphia has a WagerWeb wins total this season set at 16. It is the only team less than 24.5. That should tell you how bad this team is likely to be.
Just four seasons ago, the 76ers finished above .500 and reached the second round of the playoffs, upsetting the Chicago Bulls in the first round when Derrick Rose tore up his knee for the first time. Last year, the 76ers entered the season with some reasonable veteran talent like Thaddeus Young, Evan Turner and Spencer Hawes. Plus they had a good-looking rookie in Michael Carter-Williams. Only MCW remains, and there were reports the team tried to trade him this offseason.
Philadelphia finished 19-36 last year, which actually wasn't the worst record in the NBA — Milwaukee was 15-67. However, the 76ers had a 26-game losing streak, tying the longest in league history. A vast  majority of those losses were blowouts. Philly nearly went winless for two straight calendar months but won on March 29 against Detroit, 123-98. That also ended an 18-game home losing streak, which was one shy of another NBA record.
Turner and Hawes were traded during last season for draft picks (only second-rounders). Young was dealt this offseason to Minnesota as an offshoot of the Wolves trading Kevin Love to Cleveland. The Sixers have tons of cap room but didn't spend anything this offseason. They will get back Nerlens Noel, last season's first-round pick (acquired in trade from New Orleans). He sat out all last season recovering from a torn ACL. The team could have played him the last month or so but it wanted to lose to get a better chance of landing the No. 1 overall pick.
The 76ers didn't get that top pick in the draft and instead slid down one spot to No. 3. That means the team lost out on the two top prospects in Jabari Parker and Andrew Wiggins. So the Sixers took Kansas center Joel Embiid even though he had recently broken his foot. Thus he's not expected to play this season, either. Neither will the club's second first-round pick, Dario Saric. He is contractually obligated to remain in Europe for two more years.
The only major offseason addition was Luc Mbah a Moute in the Young trade an Mbah a Moute is an average NBA player at best. It's going to be a long year in Philly! The team might be a WagerWeb game favorite less than 10 times all year and never on the road. The 76ers open Oct. 29 at Indiana.