MNF Betting Point Spread
October 27, 2014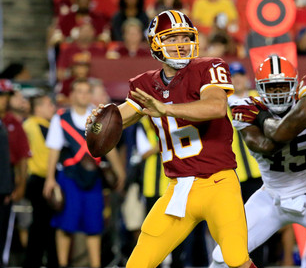 Tonight the Washington Redskins are in Dallas to take on the Dallas Cowboys for Monday Night Football. As we speak the current point spread is as follows:
Washington Redskins +9
Dallas Cowboys -9
Total: 49 Points
This spread can be found at most of our top sportsbooks.
Looking at this point spread history we see that it actually opened at 7.5 at many shops around the world. It rose pretty quickly to 8.5 and eventually hit 10 points in some areas. Since then it has settled back down to 9 points.  The total actually opened much higher at 51 and is now down to 49.
What are we looking at in this game. The Cowboys are considered by many to be the best team in football. Also, the Monday Night and other prime time games typically have been going OVER this season. You have hapless the Redskins team that is coming into town after a narrow win vs. Tennessee. But the fact is they are starting their 3rd string QB Colt McCoy. Kirk Cousins, last weeks starter, has turned out to be much too costly in the turnover department.  Turnovers is one guaranteed way to lose football games.
The public is wagering heavy on Dallas according to our friends at Sports Betting Online's live odds tracker. They are being bet about 80% to Washington's 20%. A true contrarian bettor would take the Redskins here and maybe even buy a point if and when it is at 9.5 or a half when it reaches 10, which it will most probably do before game time.  Our in house writers all have Dallas winning this one easily however, so yours truly will just sit back and watch this one for entertainment purposes only.
~Brad