College Football Week 13 Picks Against the Spread
November 20, 2014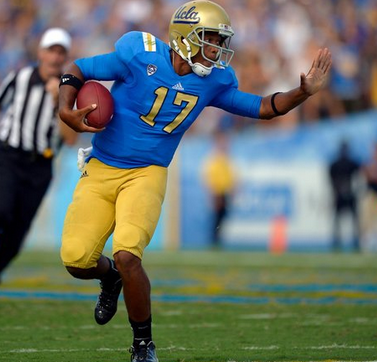 Conference championship week is only a couple of weeks away. It's almost hard to believe how deep we are into the 2014 college football season. Football season always seems to breeze on by. Knowing that the season's end is fast approaching, it's time to step up our games and make some big bucks. No one wants to finish with a losing season. So I'm going to help you find some games that will make you money this weekend.
When I first started looking over the games in this week's board, the first game I like is the Michigan State/Rutgers game. I like Michigan State (-22) at home to cover the spread against a really bad Rutgers team. The only reason I'm not going to bet the mortgage on it is because I fear Michigan State could come into the game with a lack of focus. Otherwise, they should win by 30+.
Minnesota (+10) at Nebraska is a decent bet as well, although the Huskers play much better at home than on the road. Nebraska is coming off a shell-shocking defeat at Wisconsin. I wonder how emotionally prepared they will be for this game. Minnesota is a decent team. I am a little scared with this game because I'm not really sure which Nebraska team will show up. I do expect the Huskers to win, but only by a small margin.
Sticking with the mediocre Big Ten Conference, I also like Indiana (+34.5) at Ohio State, but I'm not all that confident in this pick. Ohio State could name the score against a horrible Hoosiers team, but I wouldn't be surprised if they take Indiana lightly with the rivalry game against Michigan looming next week. Those 3 picks aren't bad, but the 3 games I like the best are as follows:
Illinois (+7) vs Penn State
There are just too many tempting games in the Big Ten. I know what you're thinking….Illinois is horrible. Yes, they are horrible. They got rolled by Iowa a week ago, but they do have something going for them – they're playing a Penn State team with absolutely no offensive talent. If you give Penn State 7 points, I'm taking the dog pretty much every time. Penn State is 2-4 in the last 6, with their wins coming against Indiana and Temple – two teams with terrible defenses. Penn State scored just 43 points combined in those two games. Bet this pick now at Youwager.ag – Our top rated sportsbook for fall 2014
Iowa (+10.5) vs Wisconsin
It's a Big Ten special today here at Sportsbookadvisor.com! Wisconsin rolled Nebraska last week behind an NCAA record 408 yards from running Melvin Gordon. But that was in Madison. This is in Iowa City. This series is traditionally close, and Iowa has played better this season at home than on the road, while Wisconsin has done the same thing. 10.5 points is too much given the game's location. Kinnick Stadium will be loud, and Iowa's defensive line will keep Gordon contained enough to force quarterback Joel Stave to make plays. I don't trust Stave. Iowa not only beats the spread, they win the game outright. You heard it here first. Bet Iowa now at TopBet.eu and receive a handsome bonus and the security of a SBA top rated approval.
UCLA (-3.5) vs USC
I would consider this year a success for USC in Steve Sarkisian's first year. I would consider this year a mild disappointment for Jim Mora Jr.'s UCLA Bruins only because I thought they would be a national title contender. These are two solid but not great teams. It's a rivalry game that is important to both teams for recruiting purposes. But I like Brett Hundley against USC's secondary. This is a big game for the future of these programs. Give me Mora's Bruins by a touchdown or more at Rose Bowl Stadium. Bet UCLA now at BetOnline.ag and get a bonus and access to one of the best betting website infrastructures online.