Taking a Look at 2014 College Football Betting Trends
December 6, 2014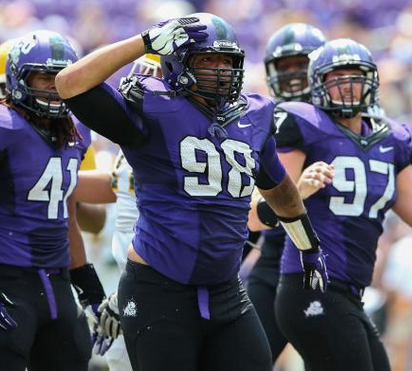 Now that we are about to wrap up the 2014 college football season, let's take a look at the betting trends heading into championship weekend. I will break down and analyze the outcomes against the spread and over/under. Let's get started!
More good teams play in games that hit the over than bad teams
Here is a list of the teams that played in games that didn't hit the over more than 3 times; Duke, Houston, South Alabama, Northern Illinois, West Virginia, Ohio, Ole Miss, Stanford, Syracuse, San Diego State.
And now a list of teams that played in games that hit the over at least 9 times; Tulsa, Ohio State, Georgia, Boise State, Michigan State. Notice a difference between those lists? The better the team, the more frequently they played in games that hit the over.
What can we take away from this trend? Not too much. It could just be a coincidence. Or maybe the top teams aren't getting enough credit for offensive talent from Vegas. I found this to be an interesting trend, but it likely has more to do with sheer coincidence than anything else.
No surprise on most teams that fared well ATS and those that didn't
When I looked over the list of teams' performances against the spread, most didn't come as a surprise. Here is a list of teams that went at least 8-3 ATS; Western Michigan, TCU, Arkansas, Texas State, UTEP, Louisiana Tech, Kansas State. And now a list of teams that went 3-8 ATS or worse; Southern Methodist, Florida State, Akron, Oregon State, San Jose State, UCONN.
Most of the teams on those lists that fared well ATS were teams that didn't have high expectations coming into the season. Therefore, the general public didn't jump all over those teams, as should have been expected. The teams that didn't do so well ATS are mostly teams that underachieved based on preseason expectations.
Sure, Florida State didn't lose a game in the regular season, but they continually won by slim margins. They were expected to cruise through the season and blowout most opponents, but that didn't happen. Many people lost big bucks on Florida State this year.
Some other teams that didn't fare so well ATS this year that doesn't surprise me include UCLA (4-8), South Carolina (4-8), Texas A&M (4-8), Auburn (4-8), Alabama (4-8), and Oklahoma State (4-7). You might be wondering why I'm not surprised at Alabama's final ATS record considering they're #1 in the country. Alabama is the most popular team to bet on from the general public. That makes it very difficult for them to cover the spread. They are given too many points quite often.
Auburn was a popular choice to win the national title, but they simply didn't reach expectations. That's why Auburn was unable to win many games ATS. South Carolina was a preseason top 25 team but finished 6-6. Pretty much any time a team significantly underachieves, they won't fare well ATS. That's why Oklahoma State, UCLA, and Texas A&M also lost people money (or won them money if you bet against them).