NFL Picks Week 15
December 12, 2014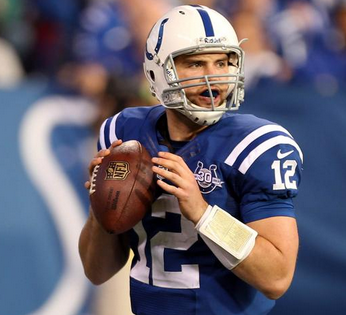 Just three games remain on each teams schedule. Some teams are eliminated from playoff contention whereas some teams technically are not. Take the case of the Carolina Panthers – They are 4-8-1 and are technically not eliminated from the playoffs. It would take a miracle of epic proportions for them to be able to make the playoffs. QB Cam Newton had  a miracle of his own this week as the truck he was in flipped in a horrific auto accident. The good news is he is not very badly injured and will return to football, probably next season.
Here are the games we isolated for the weekend and the reason we like them. Don't forget you can see the live odds listed at our site any time and get the matchup statistics as well.
Indianapolis -6.5 vs. Houston
Which Indy team will show up? We aren't sure. But we are willing to bet a dime that it will be the one that limits turnovers, passes the ball effectively and plays decent defense. The playoffs are right around the corner and this team needs to shine in this game to show themselves and their fans they are for real. They will look to dominate Houston here. Indy won by 5 points at Houston back in October and we can see them doing better than that this time. Yes, it is true that QB Fitzpatrick for the Texans is coming off a record setting 6 TD game. But let's face it: It's still Fitzpatrick. He has flashes of brilliance all the time followed immediately by sub par games. Take the Colts minus the points. More Info: Houston is 1-5 ATS in its last 6 games when playing Indianapolis
Green Bay -4 at Buffalo
Buffalo has made some strides this season. They have really overachieved. But how can you not take this Green Bay team which is hitting on all cylinders at the moment? As much as I hate to bet the public favorite (66% on Green Bay and 34% on Buffalo) I absolutley have to here. Or else, it will be one of those games where you feel behind the entire time and you are secretly kicking yourself for going against the hottest team in football. Take Green Bay.
San Francisco +10.5 at Seattle
It's not over for San Fran just yet. The media has definitely put the fork in them but at 7-6 they are definitely in the hunt. A few wins and a few losses by other teams and they are in. They are lacking some of the defensive talent that has had them playing in the playoffs the last few years. But there is still enough firepower here and coaching intelligence to match up with Seattle. This is the 49ers last gasp and we think they won't go out without a fight. Take San Fran plus the points.
You can be alerted every time we post helpful betting articles like this by simply signing up here with your email address:
[subscribe2]