Recent Illegal Sports Betting Arrest Shows Why It's Safer to Bet Online
December 19, 2014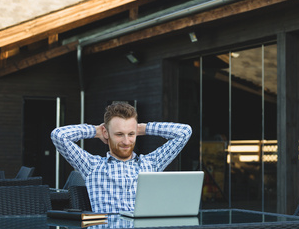 If you need any further proof that online sports betting is the way to go, take a look at this story about a illegal sports betting ring gone bad. It just goes to show that when you try to either become a bookie or bet through an illegal bookie, chances are things won't end up well for you. Imagine if you had placed bets through this guy. You wouldn't ever be able to get your money since he's going to the slam.
The fact of the matter is online sports betting is the safest way to bet. It doesn't matter if you live in the United States or a country that has legalized online sports betting – there are no risks involved as long as you are wagering on a legitimate site. Even in countries where online sports betting isn't technically legal, there is no risk on a legitimate site. The government doesn't crackdown on those wagering online. They crackdown on bookies such as the suspects in that article.
What that means being a bookie doesn't pay off and neither does placing wagers through a bookie. The top online sportsbooks are reputable. You won't have to worry about getting your money when you want to cash out. If you wager through a bookie, all you can do is HOPE to get your winnings. There will never be a guarantee.
Why wager through a bookie?
Do you have a credit card or access to Western Union and access to the Internet? Obviously you have Internet access because you're viewing our website! In order to gamble online all you need is access to the Internet and a way to fund a sportsbook account. That's it. So why take the risk by wagering through a bookie, especially if online sports betting is legal in your country?
Getting back to the busted bookie, it's a very interesting story. And it just goes to show the risks of getting involved in illegal offline sports betting, especially in the United States. But I feel no sorrow for those that got caught. I'm not in favor of arresting those that wager or take wagers illegally. In fact, I think it's kind of lame to make laws that prevent people from wagering on sports.
We should have a right to do what we want with our money. That's not the point. The point is when you get involved with a bookie or attempt to become a bookie you are taking a risk. And there's no need to take that risk because you can get action on so many online sportsbooks. Jonathan Klein will probably spend a few years in prison for "promoting gambling in the first degree", but he has no one but himself to blame.
This is another prime example of a bookie getting in trouble with the law. Adam Meyer will likely spend years in prison for referring clients to offshore bookies and even threatening a client to pay at gunpoint. That's the type of person you will deal with if you get involved with a bookie. There's never been a case involving an online sportsbook holding a gun to a customer's head!
Wagering online is safe
Hopefully you now understand the risks involved with wagering through a bookie. There's absolutely no reason to go down that route. The online sportsbooks on our list here at Sportsbookadvisor.com are safe, secure, and easy to make deposits and receive payouts. Don't put your money at risk. Wager safely online.