Saturday December 27 College Football Bowl Picks
December 26, 2014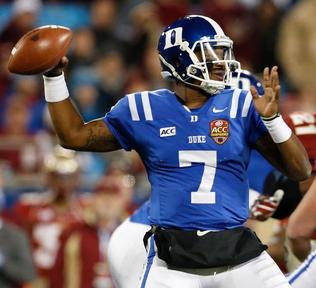 There are 5 exciting bowl games on the schedule on Saturday. The games are as follows:
Virginia Tech (+3) vs. Cincinnati in the Military Bowl
Duke (+7.5) vs. Arizona State in the Sun Bowl
Miami (-3.5) vs. South Carolina in the Independence Bowl
Penn State (+3) vs. Boston College in the Pinstripe Bowl
Nebraska (+7) vs. USC in the Holiday Bowl
Each game presents some intrigue even though they aren't "big" bowl games. But there are 2 games on this list I just can't bring myself the wager. The first game is the Miami vs. South Carolina bowl game. This is a match up of 2 disappointing teams. Miami coach Al Golden felt this was finally going to be the year his Hurricanes break out, but that didn't happen. South Carolina was a preseason top 10 team and flamed out early in the season. I don't like bowl games involving 2 underachieving teams. But I really like these 3 games and feel I'm going to make some money betting them:
Cincinnati (-3) over Virginia Tech
Yes, Virginia Tech does have one of the most impressive wins on the season (at Ohio State). That was September. This is now. Virginia Tech simply is not a very good football team and struggled throughout the ACC season. The Hokies finished with a 6-6 record and went 2-4 the second half of the season. They have losses against a few mediocre teams (Pittsburgh, Wake Forest). Cincinnati, on the other hand, was 9-3. They did lose to Ohio State, a team Virginia Tech defeated. But the Bearcats finished the season on a 7-game winning streak. Both teams are different teams since September. Cincinnati is the team on the upswing. Bet this pick now at Youwager.eu and have the confidence that you are in good hands.
Arizona State (-7.5) over Duke
The Sun Bowl is a match up of a team happy to be there (Duke) and a team that is probably disappointed to have ended up in this bowl game. In most cases, the disappointed team doesn't come to play. But I don't think that will be the case with Arizona State. I think you'll see a pissed off Arizona State team that wants to prove a point that they are a top-notch football team against a decent Duke football team. I fully expect the Sun Devils to win big in this interesting Sun Bowl match up. Deposit now at TopBet and get a special SBA readers bonus.
USC (-7) over Nebraska
The Holiday Bowl is one of the best pre-January bowl match ups. Big-10 vs. Pac-12, new coach vs. interim coach, storied program vs. storied program, corn fields vs. beaches, etc. Bo Pelini was unfairly fired in favor of a mediocre coach (Mike Riley) at Nebraska. Interim coach Barney Cotton takes over against a solid USC team fresh off a decent first season under coach Steve Sarkisian. I like USC here because Nebraska has too many issues at the quarterback position. Tommy Armstrong Jr. simply isn't a talented enough passer to give USC's defense problems. And who knows how prepared the Huskers will be. Bet USC at Wager Web and get access to one of the best betting platforms online.